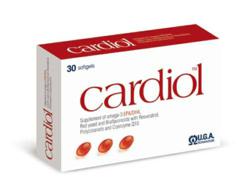 I was the first test case for Cardiol in the U.S. and it couldn't have been easier, just one capsule a day and my bad cholesterol levels dropped over 40 points in just 30 days
San Diego, CA (PRWEB) November 29, 2011
Good news for people wanting to learn how to lower cholesterol levels naturally. Solana Health today announced a limited time offer for a free 30-day trial of Cardiol.™ The only all-natural supplement that combines the most clinically effective ingredients in one capsule and lowers cholesterol in just 30 days.
According to the Mayo Clinic Proceedings, the key ingredients in Cardiol, Red Yeast Rice, and pharmaceutical grade Omega-3, have been clinically proven to lower cholesterol levels on par with statin drugs. Doctors worldwide recommend Cardiol for patients that are looking for ways to reduce cholesterol naturally without risking statins side effects. (1)
High cholesterol, which increases the risk of heart attacks and strokes, is the 8th leading cause of death in the U.S. according to the Harvard Medical School and now affects 1 in 3 Americans. Identifying high cholesterol as early as possible is the driving force for learning how to lower cholesterol naturally and safely. The National Institute of Health has recently changed their guidelines to require the screening of all children between the ages of 9 and 11 for high cholesterol. Previously the first test was recommended at age 20.
Pediatric cardiologist Dr. Samuel Gidding, who treats kids at A.I. duPont Hospital in Delaware, helped write the new guidelines. "The earlier high cholesterol is detected the sooner it can be treated and neutralized as a health risk", states Dr. Gidding.
There are all-natural approaches to lowering cholesterol such as increased exercise and switching to a healthier diet and this may be enough for some people. However many people suffer from hereditary high cholesterol in which their liver simply makes too much "bad" cholesterol. These people require a way to block some of that production to lower their "bad" cholesterol levels.
Unfortunately for patients wanting to find out how to lower cholesterol, the only prescription drugs available to treat high levels are Statins. However, these drugs are known to cause side effects like muscle pain in an estimated 20% of patients. (2) Additionally more severe side effects such as liver damage, skin rashes and memory loss have also been reported. The end result is that more than half of all patients prescribed Statins stop using them within one year; leaving millions of Americans with untreated high cholesterol and an increased risk of an early death. (3)
Effectiveness and convenience are the biggest draws for users of Cardiol, which combines pharmaceutical-grade Red Yeast Rice and Omega 3. In fact, David McMahon the founder of Solana Health attributes the reduction of his own cholesterol levels to the combination of all-natural supplements contained in a single pill of Cardiol. "I was the first test case for Cardiol in the U.S. and it couldn't have been easier, just one capsule a day and my bad cholesterol levels dropped over 40 points in just 30 days." McMahon is on a mission to help others learn how to lower cholesterol naturally and in order to encourage others to start their own journey to better health he is offering a free 30-day trial of Cardiol.
Typically consumers need to take a handful of natural supplement a day to have any effect on cholesterol levels and they struggle to find products that are independently tested for purity and potency. At a certain point, physicians note that cost and convenience wear a patient down, and they begin to take risks with their health by skipping doses. Until Cardiol became available in the U.S. physicians had no single-pill, natural option to lower cholesterol to offer their patients.
Learn how to lower cholesterol naturally by visiting http://www.howtolowercholesterllevels.net Take advantage of the free 30-day trial of Cardiol offer by clicking here.
About Solana Health:
Solana Health is a California-based wellness company committed to providing the highest qualitynutritional supplements at the best possible prices. Solana Health supplements are registered with the FDA and manufactured under Good Manufacturing Processes. Their products are considered pharmaceutical-grade and every batch of supplement ingredients is third party tested to guarantee purity and potency. Solana Health supplements are registered with the FDA and manufactured under Good Manufacturing Processes (GMP). Every batch of supplement ingredients is third party tested to guarantee purity and potency. Our Omega 3 fish oil supplement is the most potent available in the U.S. and has received a 5-star rating from the International Fish Oil Standards Office (IFSO), the highest possible rating for purity.
Sources: 1. Becker et al., Simvastatin vs Therapeutic Lifestyle Changes and Supplements: Randomized Primary Prevention Trial Mayo Clin. Proc.,758 July 2008;83(7):758-764 2. CNN.com, HEALTH/06/16/10,cholesterol.red.yeast.rice 3. Avorn J, Monette J, Lacour A, et al. Persistence of use of lipid-lowering medications. A cross-sectional study. JAMA. 1998;279:1458-1462.
###