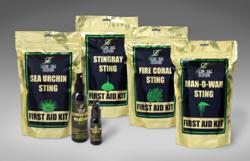 Don't get stung without Ocean Care Solutions Marine Sting First Aid products !!
Los Angeles, CA (PRWEB) November 30, 2011
Open Water swimming reached a new level of international exposure by becoming an official event at the 2008 Olympic Games in Beijing, China. Open Water swimming presents a unique set of challenges to swimmers. There are no lane lines, walls or starting blocks but a good likelihood the swimmer could run into a variety of stinging marine animals including jellyfish, sea wasps and, the much feared, Portuguese Man o War. These painful injury episodes can very much dictate the deciding role in determining the winner of an Open Water race.
Ocean Care Solutions, specializing in State of the Art Marine Life First Aid Kits and jellyfish sting relief solutions, works in concert with U.S., Asian and European swimming associations along with world class competitors to test and provide the latest, most comprehensively effective sting relief aid possible to keep participants in the water. Event rules mandate the swimmer is not to leave the water or receive hand's on assistance from any support personnel during the event or risk disqualification. Ocean Care is currently researching the possibility of a waterproof sting relief component that will deliver first aid to competitors without leaving the water.
"Openwaterswimming.com has analyzed over 2,000 open water swimming events held in 94 countries around the world. Jellyfish stings are a growing threat to swimmers as the world's oceans are becoming more gelatinous with an increasing number of venomous creatures. Protective first aid products that stay on the skin are clearly needed by individuals who swim without neoprene," commented Steven Munatones, Editor-in-Chief, Daily News of Open Water Swimming.
The Serpentine In London will be used as the venue for the Open Water Marathon (10 km) Swim and the swimming leg of the triathlon at the London 2012 Olympics. To follow the 2012 swim events and learn more about Open Water Swimming competitions and world class competitors, a link is available at http://www.openwaterswimming.com/openwaterpedia.html. Get all the Olympic news, ticket information, web cams and perspectives from http://www.london2012.com.
Jellyfish and marine stings should not pose a problem for the competitors in the 2012 Olympics but Ocean Care Solutions products are becoming more of an integral part in providing marine sting first aid for world class swimmers.
# # #