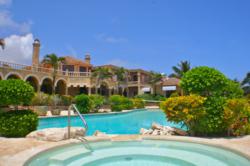 Overnight accommodations and meals are now available in an ultra luxury destination!
Cabrera, Dominican Republic (PRWEB) November 29, 2011
Villa Castellamonte, one of the Dominican Republic's most exclusive luxury private beach villa rentals, announced an immediate expansion of its availability to travelers by offering overnight accommodations when the villa is otherwise unoccupied. Dubbed a "pensione plan" after the popular bed and breakfast, family-operated guesthouses scattered throughout Europe and South America, the enhanced availability allows overnight guests who also enjoy a complete breakfast the next morning.
Traditionally, a single group rents Villa Castellamonte for destination weddings, family reunions, corporate retreats or just an annual family vacation. When this happens the entire property, facilities and full staff, including the private chef, is dedicated to that group for the duration of their vacation rental. This typical use of Villa Castellamonte will not change so vacation rentals will continue to have totally private use of this luxury beach villa rental.
When Villa Castellamonte is otherwise unoccupied by a rental group, the new pensione plan provides complete luxury accommodations and meal services for overnight guests. A 'pensione' is Italian and refers to family-owned and operated guesthouses or boarding houses found throughout Europe, South America and even the Far East. Bed and breakfasts in North America provide a similar style of service.
"The luxury villas of Tuscany inspired us to build Villa Castellamonte. So meeting the needs of overnight guests with the same style, elegance and comfort we enjoyed in pensiones across Italy is a natural extension of our family-operated vacation rental business," commented Jason Matthews, owner. He added, "We look forward to greeting our many new guests who may otherwise be stuck with less enjoyable hotel accommodations."
"The level of service, privacy and attention to detail found in luxury vacation rentals such as Villa Castellamonte set them apart from traditional hotels," said Felicita Garcia, director of guest services for the villa. She continued, "We look forward to hosting overnight stays to show them how magical a private vacation rental can be for their future vacations in the Dominican Republic."
About Villa Castellamonte
Villa Castellamonte is a private, 15,000 sq. ft., 8-bedroom / 10-bath, fully staffed luxury villa vacation and wedding destination located in on the north coast near the town of Cabrera, Dominican Republic. Offering luxury vacation rental availability year around, Villa Castellamonte may be contacted toll-free at 1-888-589-8455 (Int'l +1-702-900-3121) or found online at http://www.villa-castellamonte.com and most luxury villa rental listing sites worldwide. Pensione bookings may also be found on the same website.
###