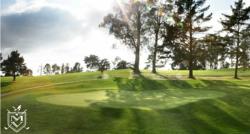 Berkeley Hills, California (PRWEB) November 28, 2011
The members of Mira Vista Golf & Country Club know all about patience. This past weekend they celebrated the culmination of several years of effort to meticulously restore their historic golf course to its original splendor, as they reopened the newly refurbished course which was originally designed by architect Robert Hunter in 1920.
Mira Vista is the only Robert Hunter designed golf course in the world. While Willie Watson is often credited to the work, it was Hunter, a professor at nearby Berkeley, who led the formation of the club and its hilly routing and design. He is best known for his work with Alister MacKenzie, designer of such notable courses as Cypress Point, Augusta National, Royal Sydney Golf Club and The Valley Club of Montecito. Hunter is also credited with authoring The Links, one of golf course architecture's definitive scholarly works.
In 2007, the members of the club undertook a bold initiative to restore the course as part of their long range master plan, which was overseen by golf architects Forrest Richardson and Mark Fine. In preparation for the restoration, Richardson and Fine conducted a painstaking study of Hunter's original design and approach. They researched photo archives and studied original drawings and plans for Mira Vista, and spent countless hours taking in-depth looks at each hole and each stand of trees. No detail was overlooked in their effort to return the club's rich legacy of golf architecture.
The golf course remained open for the past six months while the restoration work was completed, which included extensive irrigation upgrades, all new greens complexes built to USGA specification, completely new bunkers with drainage, the leveling of several tee complexes and the implementation of an environmental tree management program that will improve the overall health of many of the trees on and around the course, and will also improve the health and playability of the turf. The club also installed more than one mile of new concrete cart trails.
Hallmarks of the restoration include reclaiming 17 lost fairway bunkers, restoration of the famous risk-reward 7th Hole, and rebuilding a series of bunkers on the 18th Hole that had been removed during World War II. Panoramic views from Mira Vista's four prominent ridge tops have also been reopened. Today, grand views of downtown San Francisco and the North Bay greet the golfer at more than two dozen points across the 18-hole layout.
In an economy when many private golf and country clubs are searching for ways to reduce spending, the members of Mira Vista chose to invest in the long term future of their club by looking to their history for inspiration.
And it's paying off big time. In the month leading up to the Grand Reopening, the club has enrolled over two dozen new members. That number is expected to increase rapidly as the club is now offering many attractive Grand Reopening promotions for new members.
# # #