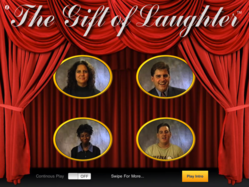 The app, which already has thousands of users laughing along, is a great gift idea that allows iPhone/iPod Touch and iPad users to participate in the power of laughter
Rochester, N.Y. (PRWEB) November 29, 2011
To quickly and easily cross some stocking stuffers off a holiday gift list, just go online to the Apple iTunes Store and send someone the best kind of gift – "The Gift of Laughter."
Leaving the stress and anger of the world behind can be very beneficial to heart health. According to research presented last month at the European Society of Cardiology conference in Paris, laughter can have a significant impact on the health and function of blood vessels in the body, says a recent article in Bloomberg News.
Watching a funny movie or television show aids vascular function, while a stressful or scary movie narrows blood vessels according to the research presented. The findings confirm previous studies suggesting a link between mental stress and the narrowing of blood vessels according to Michael Miller, lead researcher at the University of Maryland School of Medicine in Baltimore.
"The take-home message here is laughing is great for your heart." Miller said in an interview in Paris.
More than 300 measurements were conducted on the arms of the volunteers, showing a 30 percent to 50 percent difference in blood vessel diameter between the expansion due to laughter and the constriction caused by stress, according to the researchers. The experiment has since been conducted also on a person suffering from heart disease, with striking results, he said.
"It suggests that if you are having a really bad day, and you are having a lot of stress, you can reverse that in a matter of minutes," he said. "It's not only reversing your mood, it's reversing your vascular function. That's great news for the heart."
The change in the endothelium caused by laughter appears to be consistent and similar to the benefits from aerobic exercise or the use of cholesterol-lowering drugs such as statins, Miller said. The difference is that laughter has an almost immediate effect, he said.
More research is needed to assess whether laughing on a regular basis may reduce the risk of heart attacks, Miller said. Meanwhile, it may help to incorporate laughing on a regular basis as part of an overall health lifestyle, he said.
"A prescription for health should include laughter, " Miller said. "In other words, eat your veggies, exercise, don't do unhealthy things like smoking, and get a good belly laugh every day."
"The Gift of Laughter" app makes it easy to tap into the proven health benefits of laughter. The app, which already has thousands of users laughing along, is a great gift idea that allows iPhone/iPod Touch and iPad users to participate in the power of laughter to induce smiles and laughs and to share them with friends and loved ones.
"This is the BEST laughter video we have ever seen. Period," said Steve Wilson of the "World Laughter Tour," which sponsors seminars and laughter-leader training globally. "When we laugh, our pain and suffering are put on hold and we are completely engulfed in a sense of well-being. Laughter makes us feel good both mentally and physically. And laughter is contagious, which makes this video work especially well."
About Fred Burger
A writer, photographer and filmmaker, Burger ran a busy corporate design and production company for over 17 years. His clients included many Fortune 500 companies. He's an award-winning documentary filmmaker whose work has been aired nationally on the Public Broadcasting System. Since 2001, Burger has been a professor, teaching screenwriting, photography, video production and filmmaking to students at Monroe Community College in Rochester, NY.
Media Contact
Fred Burger can be reached at (917) 647-8152 or fburger(at)visionsmedia(dot)com
The web site for "The Gift of Laughter" can be found at: http://www.the-gift-of-laughter.com
"The Gift of Laughter" app can be downloaded at: (or search the app store for "laughter")
http://itunes.apple.com/us/app/the-gift-of-laughter/id428139499?mt=8#
###