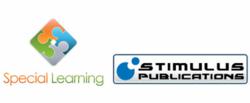 We are very excited about this collaboration. We aim to develop the highest quality training solution backed by research for the growing needs of individuals engaged in ABA programs.
Chicago, IL (PRWEB) November 29, 2011
Special Learning, Inc., an online comprehensive autism solutions company, has joined forces with Stimulus Publications, a company that provides high quality Applied Behavior Analysis (ABA) curriculum and other educational learning materials to parents, schools and behavior analysts. Both companies share the same goals of providing effective, evidence-based, resource in helping parents, teachers, therapists and other practitioners involved with children with Autism and other developmental disabilities. Together, they will utilize their combined synergies to develop the highest quality training solution backed by research to answer the growing needs of children and adults engaged in ABA programs.
Special Learning Inc. provides an extensive library of free information and resources for parents, providers and educators to help them continue to expand their skills and knowledge. It offers a variety of products and services that utilizes the principals of ABA and is compliant with ADA standards to help parents of children with ASD to take control over their child's learning and development.
Their product offerings include an extensive array of teaching products, training programs, ABA services and other learning materials. Technology solutions offered by Special Learning include mobile apps that enables individuals with communication deficits communicate their basic needs and wants. Other mobile apps in development include ABA teaching apps designed to facilitate ABA learning to generate better outcomes within a shorter period of time. Special Learning also offers an eLearning program that consists of ABA curriculum and detailed lesson plans and informative eBooks that can be easily downloaded for immediate access across the world.
In joining forces with Stimulus Publications, Special Learning expands its product line with the highest quality ABA solutions including books, CDs, DVDs and learning materials which were meticulously field tested with children, parents, special educators and behavior analysts. In addition, they will collaborate to develop a series of live webinars on ABA implementation that breaks down ABA teaching methods in a format that can be easily understood and implemented by both experts and non-experts alike.
Both companies understand the challenges of working with children with autism or any other developmental disabilities. Their mission is to continue to produce the necessary tools to empower parents and professionals with knowledge and information essential in unlocking the potential of each and every child.
About Special Learning (http://www.special-learning.com)
Special Learning is dedicated to becoming the global leader for Autism and Applied Behavior Analysis (ABA) solutions by leveraging technology to offer every person diagnosed with Autism Spectrum Disorder (ASD) attain an abundant and fulfilling life. Through their comprehensive information and resource portal, Special Learning provides the global Autism community with a broad range of free products, tools and services. Their comprehensive product line includes ABA training & education products, iPhone Apps, web-based & downloadable tools, and professional services designed to empower parents, teachers and providers so that they can help individuals with Autism move up the skills spectrum intuitively, successfully and affordably.
###