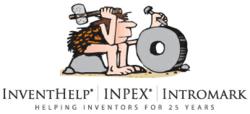 Pittsburgh, PA (PRWEB) November 30, 2011
InventHelp®, America's largest invention submission company, announces that two of its clients, inventors from Florida, have designed a harness system that would enable toddlers or larger infants to sit securely on the lap of a wheelchair user. This invention is patented and a prototype is available.
The "Lap Buddy" would provide toddlers a safe and secure place to sit when they cannot be held or placed in a stroller due to their parent pushing a wheelchair. Ideal for use with toddlers or larger infants who can sit up on their own, the invention could promote bonding between the child and the wheelchair user. According to the inventor, the Lap Buddy would help to reduce stress for the caregiver, and could eliminate the need to bring someone along to watch the child.
The invention would feature shoulder straps, a chest strap and a strap for connecting to the wheelchair. The shoulder straps would connect to the chest strap and includes adjustable clips to fasten the child securely. A strap support would be positioned in the back and the chest strap includes an adjustable, front-entry parachute buckle. The wheelchair strap would extend from the chest strap and would wrap around the child just below the shoulder. The Lap Buddy would fit a child once they are able to sit up unsupported, and could be produced with different clip styles, different sized straps or different color straps.
InventHelp® is attempting to submit the invention to companies for review. If substantial interest is expressed, the company will attempt to negotiate for a sale or royalties for the inventor. For more information, telephone Dept. 09-TPA-1322 at (800) 851-6030. Manufacturers interested in reviewing additional inventions and new product ideas can contact InventHelp's marketing partner Intromark by filling out an online request to review new product ideas here.
# # #