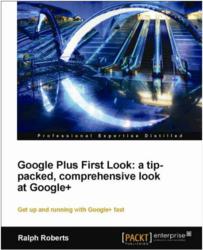 UK (PRWEB) November 28, 2011
Birmingham: Packt Publishing is pleased to announce the publication of Google Plus First Look: a tip-packed, comprehensive look at Google+. Written by Ralph Roberts, this book enables readers to get hands on with Google+ quickly and easily. Having originally been scheduled for a January 2012 release, the book was fast-tracked for November 2011 publication due to strong reader demand.
What is Google Plus? Google Plus, interchangeably known as Google+, is Google's move into the world of social networking. Involving innovative functionality such as Google Circles, Hangouts, and Master Streams, Google Plus offers an exceptional social experience for Google plussers. Like Plus itself, the book is fun, exciting, and condenses everything a reader needs for maximizing enjoyment in an easily readable format with lots of informative illustrations.
The book is now available in print and eBook formats from Packt and other leading book retailers.
Packt's Google Plus First Look book covers various topic areas including:

The basics of Plus
Getting everyone in Circles
Working with built-in video chat and related features
Using Google+ on your mobile
Promoting on Plus
And more
About Packt. Packt Publishing is one of the world's leading publishers on Google technologies. The company has published numerous books on Google technologies including:

Google App Engine Java and GWT Application Development
Google Apps: Mastering Integration and Customization
SketchUp 7.1 for Architectural Visualization: Beginner's Guide
Google SketchUp for Game Design: Beginner's Guide
Ext GWT 2.0: Beginner's Guide
Google App Inventor
All Packt's Google titles can be found on Packt's Google Category page.
About Packt. Packt Publishing is one of the world's leading publishers of books and eBooks for IT Professionals and non-Professionals. Google books are published by the Packt Enterprise division which develops books across the Google, Microsoft, Oracle and IBM spaces, amongst others. Packt recently launched PacktLib, its own library platform. For a low annual or monthly subscription, readers are able to read, copy, paste and print all the books in the Packt catalogue through any web connected browser.
###