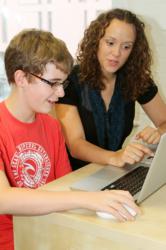 Bristol, Avon (PRWEB UK) 30 November 2011
Bristol based online tutoring specialists Tutorhub have taken a further step towards delivering the country's leading one-to-one online tutoring and homework help website.
Having reached over 1,000 users in just its first year, Tutorhub has just added new features that it says will deliver a more user-friendly and efficient service to its customers.
Users can now view the profiles of Tutorhub's 100+ qualified tutors covering the UK curriculum with ease, and book sessions in advance at a time that suits them both. Its tutors are UK based and CRB checked, giving parents peace of mind.
Founder Jon Ellis explains: "Market research and feedback from our users told us that parents and students would benefit from a feature that allows them to book online tutoring or homework help sessions in advance. We have listened to that and the new service is now up and running.
"With more in-depth tutor profiles, parents can also find the right tutor to help with the specific needs of their children. Our extensive tutor database has the curriculum covered, so finding the help you need is now a great deal easier.
"In recent times, finding a tutor has become more and more difficult yet demand for tutors is at the highest level we have ever seen. Parents are saying that many tutors are either fully booked and have waiting lists, won't travel to their area or are simply unavailable in the subjects they require.
"We hope that as we continually improve our service, the gap between supply and demand will shrink and students will get the help they need."
###