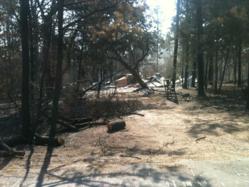 "Our family has always received such strong support from the community, so it's a blessing that Temper-Pedic has supported us during this time so that we may help our neighbors."
Austin, Texas (PRWEB) November 30, 2011
Austin-based mattress retailer Factory Mattress has teamed with international mattress manufacturer Tempur-Pedic and the Red Cross to provide beds to families affected by the devastating Bastrop wildfires.
Through a series of pickup dates over the next few weeks, over one thousand Tempur-Pedic mattresses will be donated, totaling over $1.3 million. Factory Mattress will also provide complimentary box spring foundations, in conjunction with fellow vendors, to assure victims the complete set.
"The entire Factory Mattress family has its roots in Central Texas, so when a tragedy like this occurs, it affects us all," said Stephen Frey Jr., Co-Owner & Director of Marketing. "We are happy to assist in any way possible, and truly appreciative of Temper-Pedic for their generous support."
For over thirty years, Factory Mattress has been involved in local charitable efforts, including donating mattresses to the tornado victims of Jarrell in 1997, and the American Statesmen charity event, the Season of Caring.
"This is our way of giving back," said Stephen Frey Sr., Co-Owner of Factory Mattress. "Our family has always received such strong support from the community, so it's a blessing that Temper-Pedic has supported us during this time so that we may help our neighbors."
About Factory Mattress Sales:
Factory Mattress Sales is a locally owned and operated business serving Austin and San Antonio, Texas. Since 1977, we have been offering our customers the best mattress prices and a 110% price protection guarantee. We offer an extensive line of mattresses and accessories including Innerspring, Simmons Beds, Futons and Mattresses, Bed Protectors, and the best, most comfortable pillows available. At Factory Mattress Sales, you get both a 100% Satisfaction Guarantee and a 60-Night Sleep Guarantee. Our professionally trained sales staff is here to assist you in finding the right fit for your home.
###