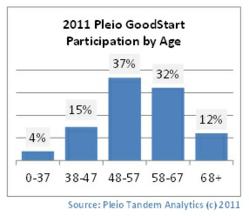 Boston, MA (PRWEB) November 29, 2011
Pleio Health Support Systems, Inc. reports that to date in 2011, its Pleio GoodStart® medication adherence program serves young baby boomers aged 48 to 57 more than any other age group. According to prescription data collected from 2008 to 2010 through Pleio Tandem™, baby boomers who participated in their pharmacy's GoodStart medication follow-up service for a blood pressure medication purchased 84 more pills over 18 months than patients in a control group.
How Pleio GoodStart® Appeals to Busy Boomers
Pleio GoodStart® is customized, convenient and continuous. It helps pharmacies provide busy customers with the support they need when they need it most, during their first 100 days with a new prescription. Pleio continuously analyzes patient insight data and Rx data to produce a unique experience for every participant during their first 100 days of therapy. Through live discussions with trained Pleio GoodStarters™, Just-in-Time Pharmacist support, and daily GoodStart Minutes™, Pleio GoodStart® helps patients take their meds as directed and refill their prescriptions when expected.
Pleio GoodStart® Recognized as a Best Practice in Medication Adherence
Experience gained through alliances with several pharmaceutical companies and pharmacy chains have contributed to Pleio's success. The 2010 White Paper on The Future of Pharmacy by the Center for Health Transformation named Pleio GoodStart® one of the country's top adherence 'Best Practices'. The 2011 URAC 'Call to Action on Adherence' identified Pleio as the premier example of multi-faceted adherence programs. Pleio GoodStart® programs are now offered to patients through more than 24 pharmacy chains across the country.
# # #