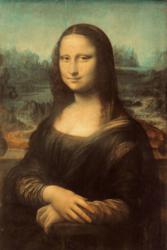 "This is really about perspective," said Piccirillo.
ROCHESTER, NY (PRWEB) November 29, 2011
Ron Piccirillo, a Rochester, NY-based graphic designer and painter, has made new discoveries regarding the Leonardo da Vinci's most famous work, the Mona Lisa. He believes he has a new understanding of her identity and what Leonardo intended to paint. In addition, Piccirillo has identified what he sees as new hidden subjects in the Mona Lisa and in other Renaissance art, including Michelangelo's Sistine Chapel. He has also identified passages in Leonardo's notebooks that provide keys to viewing these works of art. For more, visit http://www.thehiddenhorsehead.com.
"After studying images of the Mona Lisa, I discovered several hidden subjects in the painting. Excited and curious about what I saw, I began to pore over Leonardo's paintings, his writings and the work of other Renaissance artists to look for other hidden subjects," said Piccirillo.
"I then came upon several specific passages in Leonardo's notebooks. I was dumbfounded to see that Leonardo's own words seem to validate what I saw," continues Piccirillo. "One passage speaks directly to the Mona Lisa and shows that this may not be a painting of a particular person but of a human trait: Envy."
"Another passage articulates how to properly view his and other Renaissance paintings, thus – in my mind – helping to uncover hidden images no one has seen before," he adds. "Yet another passage names specific animals that can be found in the Mona Lisa. It is beyond coincidence to have identified these hidden images after finding references to them in Leonardo's own writings."
"This is really about viewing perspective. Imagine standing in front of an oval line drawing. It is obviously an oval, but if you view it from the left or right, at a large enough angle, the oval turns into a circle," Piccirillo continued. "This is the key to understanding how Leonardo and many other Renaissance artists hid subjects in their artwork. If you know to look for them, they are there."
Specifically, Piccirillo believes he now has a new understanding of the Mona Lisa's identity, her enigmatic smile, why the landscape is painted the way it is and much more about this particular painting as well as other Renaissance art.
"Some might argue that if you look at a cloud long enough, for example, you can see all kinds of objects," he said. "But in the Mona Lisa and other instances, there are too many coincidences to be ignored."
For more information on Piccirillo's specific findings, visit his Blog at http://www.thehiddenhorsehead.com.
About Ron Piccirillo:
Piccirillo lives in Rochester, NY and has worked as a graphic designer for nearly the last 20 years. He studied graphic design at the Rochester Institute of Technology (RIT). He has dedicated the last year of his life to painting, honing his craft and studying techniques of the masters associated with the periods in art about which he is most interested. These masters include Leonardo, Michelangelo, Cezanne, Van Gogh and Monet. For more information on him and his findings, visit http://www.thehiddenhorsehead.com.
###