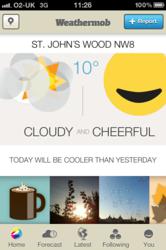 "It's a cool little app, and should go down a storm – 4.5/5 Stars"
– Cult of Mac
(PRWEB) November 29, 2011
Weathermob, a London/Boston-based start-up supported by original investors in ASOS.com and lastminute.com, has launched a social network for the weather. Available free for iPhone, Weathermob is an app designed to make talking about the weather as social an online experience as it is already is for the millions of people who use it to open conversations with strangers, colleagues, friends and family in real life.
Weathermob debuted as a free download on the App Store last week, and in its first few days has seen reports from across the US and UK, as well as more than 30 countries, including Brazil, India, Japan, Australia, Dubai, Mexico and even from the Himalayas, with a photo report posted from Nepal.
Weathermob is a social weather app. It mashes up real-time meteorological data, location-based services, photo sharing and user sentiment to create an app that enables users to report on the weather right now in their local area and share it with their friends while expressing how it's making them feel.
Weathermob's users hold the key to determining how many people are really only happy when it rains and whether a city's cheerfulness is directly proportional to how many sunny days it gets a year. Weathermob is publishing daily mood rankings of major US and UK cities via the app and its Twitter account @weathermobapp. Early results have seen Bristol as the happiest city in the UK, and Philadephia and Miami vying for happiest city in the US.
Founded and created by former Channel 4 (UK) executive Julia LeStage, media magnate, tech investor and Chairman of ASOS.com, Lord Waheed Alli, experienced CTO Ben Griffiths, social media specialist Frank Lampen, veteran tech investor Tori Hackett and brand guru Adge Gittins.
Weathermob brings together investment, creativity and technical expertise from London and Boston, two world cities with lots of weather. A fact brought home to the founders as Weathermob's beta testers grappled with the freak snowstorm that hit New England in October.
"We discovered that users were reporting the storm in really creative and personal ways, often just as much about the way it was affecting them as the weather itself," said Weathermob, CEO Julia LeStage. "We saw just as many pictures and videos of cosy log fires, hot chocolate and red wine as we did reports of snow and ice. It was far more fun – and much more meaningful – than only watching someone in a TV studio and suit, talk at me about cold fronts."
This experience convinced the founders that a social weather app like Weathermob has the potential to become a daily habit for a global audience. "The stereotype might be that only Brits are obsessed with the weather, but the truth is that the weather is one of those universal things that everybody's got to deal with. So we're confident that this is the probably the first social network on which everyone – whether (pun intended) it's your mother or your neighbour – always has something to say."
Download the Weathermob iPhone app free from the App Store
Notes to Editors:
The Weathermob app has been developed and released by Weathermob, Inc – a new startup based in Boston and London.
###