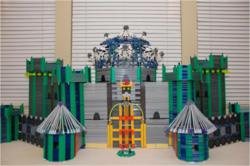 Hatfield, PA (PRWEB) November 28, 2011
WHAT: 2012 K'NEXpert Grand Prize winners Andy (age 5), Andrew (age 7) and Josef (age 9) will visit K'NEX headquarters in Hatfield, PA as guests of K'NEX President Michael Araten.
o See Andy's Flash the Biplane, an amazing replica of an actual biplane with real spinning propeller.
o Take a trip on Andrew K'NEX Sky Ride, a 10 foot long amusement park masterpiece modeled after sky rides in one of our own local theme parks.
o Venture inside Josef's Bowser's Big K'NEX Castle, an incredible 11 foot long creation resembling Bowser's castle from popular Nintendo video games.
o All three amazing models are created entirely from K'NEX pieces and were transported to Hatfield from the winners' homes in Pennsylvania, Texas and Canada.
o Snap pictures as the winners receive large replicas of their $20,000 U.S. savings bonds and get a head start on their college savings.
o Chat with K'NEX president Michael Araten about the works of art created by K'NEX builders.
o Meet and speak with these creative kids and their friends and family.
WHEN:
Friday, December 2, 2011.
11:00 a.m. – 12:00 p.m.
Additional times available upon request.
WHERE:
K'NEX Headquarters
2990 Bergey Rd.
Hatfield, PA 19440
For more information or to RSVP please contact Jacqui Griffith at jgriffith(at)knex(dot)com or 215-996-4237.
###