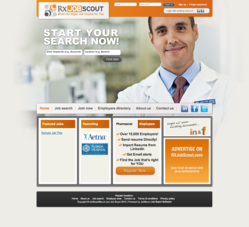 Our Automated Posting Engine for Pharmacist Jobs will cut Hiring Manager post time from minutes to seconds.
Orlando, FL (PRWEB) November 28, 2011
Rx Job Scout (rxjobscout.com) today announces the introduction of its new Automated Posting Engine designed to bridge the gap between Enterprise XML postings and manual single postings. The Posting Engine is a proprietary back end system that makes posting Pharmacist positions as easy as sending an email, and is targeted at customers who post Pharmacist jobs frequently but fall below traditional Scraping or XML feed levels.
Using technology widely used for candidate resume parsing, developers at Rx Job Scout, under the direction of Managing Partner, Nayte Carrick, modified a robust resume parser to automate the Pharmacist job posting process.
"After several months of tweaking, we're excited to roll out this new service for our sizeable mid-tier customers base. It's very cutting edge for job boards because most of the technology is focused on automating the processes for candidates. This is the first automated engine we're aware of for job posting," says Nayte.
The need for the Automated Posting Engine came from the understanding that hiring managers and Pharmacist recruiters often post the same job or series of jobs in a number of locations online, a very time consuming process. The Automated Posting Engine cuts posting time from several minutes to a few seconds by allowing designated customers to simply email the job post directly to the server.
The Automated Posting Engine can pull data from a job description in the body of an email, an attachment, or even a link to an already posted position on another site. Rx Job Scout tested the technology with a small number of selected Pharmacist Hiring Managers over several months to work out the kinks of this system.
Rx Job Scout is an industry leading Pharmacist job board designed specifically for Licensed Pharmacist and Employers. The site integrates relevant current social media accounts such as Facebook account authentication and LinkedIn profile importing to improve the user experience. RxJobScout.com also features the most robust site search engine of any pharmacist job board on the market. Learn More About Us HERE.
###