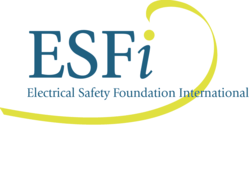 The joy that festive decorations provide can cause people to overlook the inherent dangers that are also associated with them.
Arlington, VA (PRWEB) November 28, 2011
As spirits brighten during the holiday season, many families rely on holiday lights and festive décor to brighten up their homes as well. The Electrical Safety Foundation International (ESFI) is urging families across the country to keep safety in mind as they decorate their homes this holiday season to ensure that their celebrations do not end in tragedy.
While holiday lights and other decorations add to the splendor of the season, they also contribute to the rise in incidents of home fires and preventable injuries that occur during the winter months. An average of 260 home fires begin with Christmas trees each year, with another 150 home fires beginning with holiday lights and other decorative lighting.
With its annual holiday safety awareness campaign, ESFI encourages families and communities across the country to Make Safety a Tradition of the holiday season. ESFI, in partnership with The Home Depot, is educating consumers about the unique safety concerns of the winter holiday season.
"The joy that festive decorations provide can cause people to overlook the inherent dangers that are also associated with them," said ESFI President Brett Brenner. "It is critical that families follow simple instructions and inspect their holiday decorations to minimize the risk of fire and electric shock."
Follow these basic safety guidelines to help prevent serious electrical and fire hazards as you decorate your home and yard this season:

Avoid using candles when possible. Consider using battery-operated candles in place of traditional candles.
Never leave an open flame unattended. Keep burning candles within sight.
When purchasing a live tree, check for freshness. A fresh tree will stay green longer and be less of a fire hazard than a dry tree.
When purchasing an artificial tree, look for the label "fire resistant."
Choose holiday decorations made with flame-resistant or non-combustible materials.
Use only electrical decorations and lights that have been approved for safe use by a nationally recognized testing laboratory.
Carefully inspect each electrical decoration before use. Cracked or frayed sockets, loose or bare wires, and loose connections may cause a serious shock or start a fire.
Follow the use and care instructions that accompany electrical decorations, and always unplug electrical decorations before replacing bulbs or fuses.
Keep young children away from holiday lights, electrical decorations, and extension cords to prevent electrical shock and burn injuries.
Avoid plugging too many holiday lights and decorations into a single outlet. Overloaded outlets can overheat and cause a fire.
Do not mount or support light strings in a way that might damage the cord's insulation.
Never connect more than three strands of incandescent lights together.
Make sure any electrical decorations used outdoors are marked for outdoor use.
Keep all outdoor extension cords and light strings clear of snow and standing water.
Use caution when decorating near power lines. Contact with a high-voltage line could lead to electrocution.
Turn off all indoor and outdoor electrical decorations before leaving home or going to bed.
Visit ESFI's holiday safety website, http://www.holidaysafety.org, throughout the holiday season for all of the safety tips and tools you need to Make Safety a Tradition for your family.
The Electrical Safety Foundation International (ESFI) is dedicated exclusively to promoting electrical safety. ESFI proudly sponsors National Electrical Safety Month each May, and engages in public education campaigns throughout the year to prevent electrical fires, injuries and fatalities in the home and the workplace. For more information about ESFI and National Electrical Safety Month, visit http://www.electrical-safety.org.
###