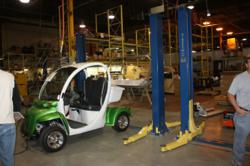 "This is a state of the art manufacturing facility and a once in a lifetime opportunity for buyers."
Fargo, ND (PRWEB) November 29, 2011
Medina-based Polaris Industries, Inc., is liquidating the former factory of Global Electric Motorcars, LLC (GEM) in Fargo, ND. Grand Rapids, MI based Liquid Asset Partners has been hired to handle the sale of excess assets due to the relocation of production to a current Polaris factory in Spirit Lake, IA.
The liquidation sale of the excess factory inventory and equipment will start December 6th and is open to the public every day until all the assets are sold. Hours of the sale are 10am till 6pm Monday thru Sunday. Included in the sale are excess Global Electric Motorcars vehicles, tools, equipment, office furniture, pallet racking, and a state of the art production line installed in 2003.
"This is a state of the art manufacturing facility and a once in a lifetime opportunity for buyers," says Bill Melvin Jr, CEO of Liquid Asset Partners. "Electric Vehicle factories don't liquidate frequently. There will be items for businesses small & large. And even the general public is welcome. With the recent boom in the Fargo economy, this presents an opportunity for needed assets to be re-deployed in the area."
In April Polaris announced that it had agreed to buy GEM from Chrysler. GEM was a subsidiary of Chrysler Group, LLC. The company manufactures low-speed electric-powered vehicles, and it recorded roughly $30 million in sales in 2010, according to Polaris.
Since its inception in 1998, GEM has manufactured more than 45,000 electric vehicles that are used by local, state, and national government agencies, resorts, universities, medical and corporate campuses, sports teams, and other entities, as well as individual customers.
Polaris is among Minnesota's 30-largest public companies based on revenue, which totaled $1.99 billion in 2010—up 27 percent from 2009. Net income totaled $147.1 million last year, up 46 percent from 2009. Last month, Polaris made a record $13.6 million profit share payment to its employees—which amounted to nearly 19 percent of their annual salaries, on average.
Liquid Asset Partners is among the nations leading liquidation, auction and appraisal firms. Liquid works with banks, manufacturers, retailers, and wholesalers to assist with disposition and appraisal of assets in the US and Canada. Some of their past asset dispositions clients include Circuit City, Barcalounger, Target Stores, Harley-Davidson, Indian Motorcycle, GE Capital, and JP Morgan Chase.
###