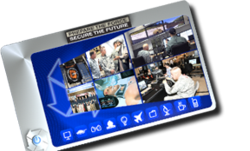 Orlando, FL (PRWEB) November 29, 2011
The following are scheduled show highlights that may be of particular interest to the media.
Please contact Barbara McDaniel at 703-447-4239 for press passes and to coordinate interview and photo opportunities.
HIGHLIGHTS: I/ITSEC 2011 SCHEDULE
Warfighters' Corner
--Veterans recently returned from the combat zones share their personal experiences. Many of the speakers have served multiple tours in theater and have a sense of perspective of important issues.
--Each session will feature veterans recently returned from the combat zones. Service representatives will tell their stories and present their views of what has or has not been effective in terms of tactics, techniques and equipment related to their day-to-day operations and training.
--All Warfighters' Corner sessions will have representatives of each of the Services at each session.
--Tuesday 11/29 2:00 p.m.-3:30 p.m.; Wednesday 11/30 10:30 a.m. – 12 noon; and Thursday 10:30 a.m. – 12 noon.
Medical Simulation: A Vision for the Future
--A panel of experts from the medical, academic, government, and industry arenas discuss the present use and future state of medical simulation.
--"Perimeter Patrol" a bonus addition to the event, to present groundbreaking and novel solutions developed to meet the broader medical simulation arena needs.
--Wednesday, 11/30 10:30 a.m. – 12 noon.
Starfish Leadership
--Special guest moderator Ori Brafman, author of Starfish and The Spider, describes the Army's Starfish Program as well as examples of how to adapt in a starfish world, and become a catalyst leader.
IGNITE! ("Enlighten us, but make it quick.")
--A fast-paced, high energy event where presenters share their thoughts, passion, and professional experiences in 20 slides that auto-advance every 15 seconds, creating excitement and provoking new ways of thinking.
--Wednesday, 11/30 4:00 pm-5:30 p.m.
# # #