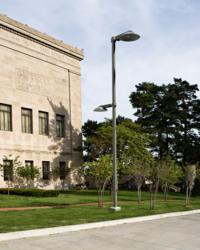 Kalamazoo, MI (PRWEB) November 30, 2011
Landscape Forms is pleased to announce the introduction of LEO, the newest, most advanced and most versatile lighting in the company's offering of outdoor LED lighting solutions. LEO includes both pedestrian (12-16 feet height) and streetscape (20-25 height) lighting with a fresh aesthetic and genuine versatility. While Landscape Forms has pioneered the design of lighting products as part of integrated site furnishing collections, LEO has a mission all its own. It is a universal light that stands alone, works well with a wide range of Landscape Forms furniture products, complements contemporary and traditional settings, and can be retrofit to poles from any manufacturer in existing installations, making it possible to bring leading edge LED technology and a whole new look to existing landscapes without costly infrastructure change. In the scope of its intention and clarity of its design, LEO is a forward-looking lighting solution for helping designers and clients create a sense of place. LEO's smart design is the work of master industrial designer John Rizzi and award-winning lighting design firm Clanton & Associates, Inc.
A generous domed canopy in two sizes with poles in corresponding heights create pedestrian and streetscape lights with contrasting scale and common style. Landscape Forms married the form with LED technology and innovative optics designed by in-house engineers to develop lighting that delivers energy efficiencies, a superior visual experience, functional versatility, and health and environmental benefits.
Energy Efficiency: LEO employs up-to-date high-efficacy LED light sources that produce more lumens with less wattage than conventional bulbs and have a lifespan of 60,000 to 100,000 hours. LEDs are arranged in a sealed quick-connect luminaire/cartridge that enables easy replacement. Multiple triangular LED arrays are mounted so as to facilitate wiring in series and in parallel, enabling LEO to handle electricity more efficiently. Constant current driver technology guards against voltage surges and wasted energy. Superior heat management, achieved through the canopy design and all-aluminum construction, efficiently dissipates generated heat into the ambient air to prolong LED life.
Visual Experience: LEO employs warm white LEDs that provide a more pleasant visual experience than cool white light. A custom designed collimated optic sends light on angled trajectories, directing light onto more points on the path and putting it exactly where it is needed, eliminating light pollution, and virtually eliminating the points of light visible when one looks up into the light. A Cyro-Acrylyte lens placed over the LED array softens and diffuses the light, providing a pleasing "sheet" of light with 85% light transmission, reducing light scatter, hot spots and glare and delivering more appropriate light levels for night vision than daylight simulating glare bombs. LEO offers "effective" uniformity rather than complete uniformity of light by creating a subtle light pattern that prevents dark zones and provides contrast that enables detection of people or objects in motion within the peripheral range.
Functional Versatility: LEO pedestrian and streetscape lights come complete with canopy, poles and mounting plates for new installations. A simple clamping mechanism that affixes the canopy armature to the pole simplifies installation. This mechanism also makes it possible to retrofit LEO fixtures to existing poles with attendant savings in labor, materials and time. And it allows two fixtures to be mounted at different heights on opposite sides of a single pole to efficiently illuminate adjacent pedestrian walkways and streets.
Health and Environment: The LEDs used in LEO support Dark Skies, are lead and mercury free, and avoid the over-illumination associated with bright white HID sources. In contrast with most outdoor public lighting, which employs cool blue-white color in the 6500° Kelvin daylight range that is on the edge of the UVA spectrum implicated in species extinction and adverse effects on human health, LEO uses 3500° Kelvin warm white LEDs that provide illumination similar to moonlight. This bio-mimicry addresses the night vision switch in humans from photopic to mesopic vision, supporting the natural circadian rhythm and melatonin/serotonin cycles essential for human health. The aluminum material used in manufacturing LEO contains up to 70% recycled content and structural parts are recyclable. The polyester powercoat finish is virtually HAPS and VOC free.
About Landscape Forms
Since its founding in 1969 Landscape Forms has earned a reputation for excellent design, high quality products and exceptional service. The Landscape Forms U.S. headquarters and manufacturing facility is located in Kalamazoo, Michigan with sales offices throughout North America, the United Kingdom, Southern Europe, the United Arab Emirates and Asia. Landscape Forms collaborates with renowned industrial designers and consultancies, landscape architects, and architects to design and develop integrated collections of products that address emerging needs and help create a sense of place. The company has an installed base of products around the world. Clients include municipalities, transit centers, corporate, college and health care campuses; and familiar brand leaders such as Boeing, Cisco Systems, Disney, Sprint, American Airlines, Herman Miller and Nike. Landscape Forms was recently named by the Wall Street Journal as one of the Top 15 Small Workplaces in the US. http://www.landscapeforms.com
# # #