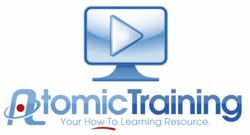 "During the holiday season, whether you're purchasing for others or yourself, make sure you have the training to go along with it. Make the most out of your investment!"
Little Falls, MN (PRWEB) November 29, 2011
Atomic Training, a leading provider of on-demand training software, adds new tutorials to their extensive library just in time for the holidays. Learn to operate the latest Adobe, Apple, Google, Microsoft and Oracle technology from the top how-to learning resource for this year's hottest technology gifts.
"During the holiday season, whether you're purchasing for others or yourself, make sure you have the training to go along with it," says Cole Eklund, Product Manager for Atomic Training. "Make the most out of your investment!"
Purchasing an iPad or an iPod for a family member or friend this holiday season? Make sure they know how to use it. Atomic Training provides extensive training on the iPad and the iPod perfect for learners of all ages and abilities. Plus, all of the tutorials Atomic Training provides are broken down into 1-3 minute segments answering your tech questions fast!
For households getting a new computer this holiday season, Atomic Training has Windows 7 and Word 2010 training tutorials to get PC users started. For Mac users, Atomic Training also has training on Mac OSX - Lion and Word 2011. No matter which type of computer you plan on purchasing, Atomic Training will be able to provide just the right kind of training you need, when you need it.
For more information about Atomic Training, visit facebook.com/AtomicTraining, follow Atomic Training on Twitter @atomic_training or visit their YouTube channel to view a sampling of software guides.
About Atomic Training
Atomic Training provides on-demand software training and support tutorials to help businesses, libraries and organizations fulfill staff technology training and development goals. Atomic Training was established in December 2010 as a division of, parent company, Atomic Learning. Atomic Learning has been providing high impact e-Learning solutions for more than ten years to 16 million users in 45 countries.
Contact:
Clay Moore
Cmoore(at)atomictraining(dot)com
866-259-6890 x221
###