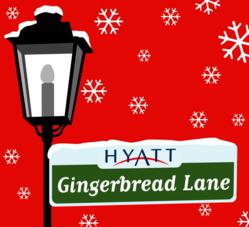 We are ecstatic to again participate in this iconic Vancouver tradition and support a great cause.
Vancouver, British Columbia (PRWEB) November 29, 2011
The most decadent lane in the city returns for the 21st year to the lobby of Hyatt Regency Vancouver from now thru December 27, 2011. Previously recognized by the Guinness Book of World Records for having the tallest gingerbread man, Gingerbread Lane welcomes more than 20,000 visitors each year. Recognized as much more than a holiday attraction, Gingerbread Lane has raised tens of thousands of dollars for the Make-A-Wish Foundation over the years. "We are proud to be associated with Hyatt and Gingerbread Lane again this year. It's a fun event for the entire family," says Ross Hetherington, Executive Director of Make-A-Wish Foundation of BC & Yukon.
Kids of all ages have enjoyed the meticulously designed masterpieces on display for the past twenty one years and have supported the partnership with the Make-A-Wish Foundation by making a donation when voting for their favourite gingerbread house. "We are ecstatic to again participate in this iconic Vancouver tradition and support a great cause," says Ulrich Samietz, General Manager of the Hyatt Regency Vancouver hotel. "As in the past, we look forward to again contribute in granting a wish that will have a positive impact in the life of a very special child."
The centrepiece is again the Vancouver hotel's Executive Sous Chef Hans Lutz's gigantic gingerbread house measuring 11 feet tall and 16 feet wide. Ingredients include 500 pounds of gingerbread dough, 400 pounds of confection sugar and 1,400 egg whites, plus a few secret ingredients and a little help from Hyatt's engineering department. Four foot tall cut outs of gingerbread families are also available for picture taking. More than 40 individually crafted gingerbread creations from culinary professionals and amateurs, corporations and secondary schools round out the sweet smelling lavish display.
About Hyatt Regency Vancouver
Hyatt Regency Vancouver, a 644-room hotel, is located in downtown Vancouver, British Columbia, Canada. It features the city's most spacious guestrooms, all completely renovated with LCD TV's and gentle-rain showers, award winning Mosaic Bar & Grille and 45,000 square feet of function space including the state-of-the-art Regency Ballroom. Reservations for Hyatt Regency Vancouver may be made by calling 604-683-1234 or visiting http://www.hyattregencyvancouver.com.
###