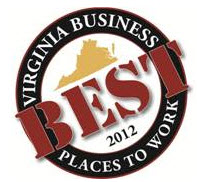 This honor reflects directly on all of our employees who work hard to make our organization great.

- Mike Mutka, President & COO
Silverchair Learning Systems
Charlottesville, VA (PRWEB) November 29, 2011
Silverchair Learning Systems, the leading provider of online education for senior care, was recently named as one of the 2012 Best Places to Work in Virginia. The annual list of "Best Places to Work" was created by Virginia Business and Best Companies Group.
"This honor reflects directly on all of our employees who work hard to make our organization great," says Mike Mutka, President & COO of Silverchair Learning Systems. "This award is possible only because everyone cares deeply enough to make Silverchair Learning Systems an incredible place to work."
This survey and award program was designed to identify, recognize, and honor the best places of employment in Virginia, benefiting the state's economy, its workforce and businesses. The Best Places to Work in Virginia list is made up of 70 companies split into three groups: small employers (fewer than 100 employees) mid-sized employers (100-250 employees), and large sized employers (more than 250 employees).
To be considered for participation, companies had to fulfill the following eligibility requirements:
Be a for-profit or not-for-profit business or government entity;
Be a publicly or privately held business;
Have a facility in the state of Virginia;
Have at least 15 employees working in Virginia;
Must be in business a minimum of 1 year.
Organizations statewide entered the two-part survey process. The first part consisted of evaluating each nominated company's workplace policies, practices, philosophy, systems and demographics. The second part consisted of an employee survey to measure the employee experience. The combined scores determined the top organizations and the final ranking. Best Companies Group managed the overall registration, survey and analysis process and determined the final rankings.
The ranking of the 2nd annual Best Places to Work in Virginia will be unveiled and published in the February 2012 issue of Virginia Business. For more information on the Best Places to Work in Virginia program, visit http://www.BestPlacesToWorkVA.com.
About Silverchair Learning Systems
Silverchair Learning Systems is an ANCC-accredited online education provider that works with senior care leaders who want to improve training in their organizations. Silverchair offers a user-friendly online training solution that improves compliance and eliminates record keeping headaches while saving time and money. We make online training successful with easy set-up, ease of use, simple tracking, and educationally-rich yet fun courses. Using this system provides peace of mind and confidence. http://www.silverchairlearning.com
###