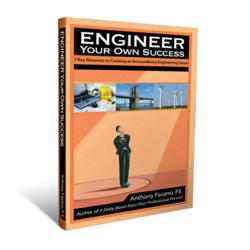 There are so many engineering and business professionals that can use the career elevating material that I teach to obtain the success they desire. I'm looking forward to building on the foundation I've created in 2011
Ridgewood, New Jersey (PRWEB) November 29, 2011
Anthony Fasano was one of the guest speakers at the Society of Hispanic Professional Engineers (SHPE) annual conference on October 28, 2011 where he presented his Engineer Your Own Success (EYOS) seminar to a crowd of over 200 enthusiastic engineers and engineering students. This year's annual SHPE conference was attended by approximately 5,000 people; 3,500 of who were engineering students. Having attended several SHPE events in New York City, Fasano once again found that their members are full of passion and energy which again was displayed at this annual conference.
During his EYOS presentation, Fasano stressed the importance of proper resume preparation and the interview process for the college students present, as this is a key element to facilitating a successful career. An informative discussion concerning the importance of networking and developing communication in an engineering career followed his address where examples were given on how to improve business relationships simply by examining the way you say things to people, something engineers (and other business professionals) often don't pay much attention to. Everyone present received a copy of his book Engineer Your Own Success and Fasano was extremely pleased to have been invited back to give his workshop again at the SHPE conference to be held in Fort Worth, Texas in 2012.
The list of other well-known and highly respected presenters included Joe Beery of Life Technologies who gave a very interesting presentation entitled Lessons from a CIO: The Three Pillars of Success. Fasano also attended a session given by Roger Pineiro of AMD called Lessons in Leadership: Going Beyond Technical Brilliance. These were just 2 of the many stellar learning opportunities presented at the conference.
The SHPE event was the last leg of his 6 week long tour of the US, which began back in mid-September. Throughout Fasano's travels, he has received resounding accolades from attendees at all his presentations. He is now in the process of booking speaking engagements for 2012. As he himself says, "I feel as if my work has just begun. There are so many engineering and business professionals that can use the career elevating material that I teach to obtain the success they desire. I'm looking forward to building on the foundation I've created in 2011 and reaching more people in the new year."
For more information on booking Fasano or learn more about this stellar presentation, please visit http://PowerfulPurpose.com/ or contact him at info(at)powerfulpurpose(dot)com.
Anthony Fasano, AKA Your Professional Partner, CEO and founder of Powerful Purpose Associates, is a nationally recognized professional coach and inspirational speaker specializing in the areas of business growth and career development, as well as leadership skills. Fasano has been a keynote speaker at hundreds of events and has had a huge impact on many professionals including engineers, engineering organizations, community groups, Chamber of Commerce's, and small business owners. Fasano sends out brief but powerful daily e-mail message to professional's worldwide called A Daily Boost from Your Professional Partner, which help inspire professionals to career success. To sign up for these motivational tips, go to http://www.PowerfulPurpose.com.
###