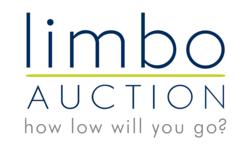 Maynard, MA (PRWEB) November 29, 2011
LimboAuction, LLC launched an online auction site today, http://www.limboauction.com, where users bid on new, name-brand products with prices starting at retail and decreasing every second. This is a unique auction site because it uses the Dutch auction method and participants can win with just one bid.
The LimboAuction model begins with users purchasing vouchers to enter an auction of their choice. Users can choose to enter auctions for items such as HDTVs, smart phones, laptops, golf clubs and cameras with a limited number of participants allowed in each auction for the best chance to win. Unlike penny auctions, the price for each item in a LimboAuction decreases each second with all participants in the auction watching the price go down and waiting for the right time to buy. One bidder will hit a 'buy' button when they think the price has fallen as low as it will go without someone else winning and the auction will be completed with that one bid. Participants who do not hit the buy button first have the option to buy the product at the retail price minus the value of the vouchers used to enter the auction.
"Customers who come to the LimboAuction web site will have the chance to purchase name-brand items below retail prices", states Kevin Shepple, CEO of LimboAuction, LLC. "It's an exciting way to shop for new products and we know customers will have fun shopping while also benefiting from our focus on post-sale customer service."
About LimboAuction: Started in early 2011, LimboAuction, LLC offers customers the chance to purchase new, name-brand products at a significant discount by watching prices go down rather than up and bidding just once. The company's mission is to offer the best auction experience to customers by providing the products they want, a price that can't be beat, and customer service that is unequaled in the online auction market.
###