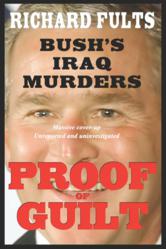 "I present evidence against Bush that proves, beyond reasonable doubt, that he is guilty of the murder of 4.450 American soldiers in Iraq." Vincent Bugliosi, prosecutor of Charles Manson.
(PRWEB) November 29, 2011
In the new book "Proof of Guilt," author Richard Fults examines the possible psychiatric rationale for Bush's bizarre and murderous behavior in what he says is the worst crime in American history.
In the book, Fults cites author Justin Frank, M.D., from his book "Bush on the Couch," published in 2004 and 2007. The following are excerpts from "Proof of Guilt" (also available at http://www.BushCrimes.net), a professional psychiatric evaluation-from-a-distance that Fults says readers will find enlightening.
"As citizens we must be mindful of the evidence we've seen—that the president (Bush) has a history of disturbed and destructive behavior, that he is a psychologically frightened man who inflicts his conflicts—really his illness—on the rest of us. We must pay close attention to his mockery, his projection of his own malevolence onto others, his distortions of reality, and his ability—like his mother before him—to instill fear. We must recognize that his actions are further examples of his emotional deficits, and keep that knowledge in the forefront of our thoughts."
"…Now that we are starting to see how damaged and dysfunctional Bush is, we must confront some unpleasant truths about ourselves. Bush's neuroses may be more evident, but they're not new; they were always there but we were unwilling or unable to see them, blinded by our collective delusion about Bush and his mental health and our manic denial of our own pain and vulnerability. Our new found awareness must be accompanied by self-awareness; the sad truth is that we have been as deluded about him as he has about Iraq. Only when we admit that self-deception and move forward will we truly be practicing the awareness required to turn awareness into action."
"….Acceptance, of who we are, with all our limitations, requires serious mourning—something Bush is incapable of doing. As long as we continue to expect Bush to change—and to hope we can change him—we are still in denial about Bush's situation. It's a bitter pill to swallow…." In some ways, of course, Bush has not deteriorated; he is just more obviously who he is –a person for whom any admitted mistake is equated with total defeat and humiliation. This makes him ultimately incompetent and dangerous, whatever his intelligence may be. …This is why people go to such great lengths to protect him, and perhaps why the opposition is so loath to confront him." (from chapter 7)
"Bush's deliberate, massive fear and fraud campaign got us into the Iraq war. That and his actual attack caused his mass murders there. The book's shocking new, well documented criminal and legal facts reveal Bush's unconscionable acts against 655,000 Americans and 800,000 Iraqis! Death, permanently missing limbs, stroke damaged brains, and dysfunctional minds: 655,000 US soldiers forever handicapped or dead. All that damage by Bush et al; premeditated, and totally unjustified criminal actions against Iraq, including the premeditated murder of 4,450 Americans!" (from Proof of Guilt, chapter 1)
These excerpts were taken from the new book "Proof of Guilt: Bush's Iraq Murders" by Richard Fults. Much more information, including a brief summary of chapter 1 and video links, are found on http://www.BushCrimes.net, as well as "5 Lies Told by Bush to Start a War." The book contains seven powerful and compelling legal proofs of Bush's guilt in the murder of 4,450 American soldiers, and voluminous legal evidence of Bush's lies and murders.
###