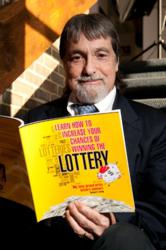 (PRWEB) November 30, 2011
Richard has personally won seven lottery game grand prizes, and dozens of smaller prizes netting his family millions of dollars in cash and prizes. But best of all, Lustig's winning lottery method has also helped dozens of others score many more millions. A Tampa couple won two million dollars, and this past summer, an Iowa man won $9 million dollars using Richard's method. It's simple, easy to follow and will make you say "I wish I'd done this sooner!"
Richard Lustig has appeared on dozens of leading media outlets worldwide including Good Morning America, Rachael Ray, Fox and Friends, CNN, Sirius/XM, Woman's World, the BBC, The Today Show Australia, TLC's "The Lottery Changed My Life" and more with his amazing story, which has even been featured in Ripley's Believe It Or Not.
Now, Lustig is bringing his lottery success strategy to California for the very first time!
Richard will be sharing his winning lottery method during a free appearance this Saturday December 3rd at 8pm at the Golden Acorn Casino in Campo, CA. The casino will offer free door prizes including dinner for two, free casino plays and a free autographed copy of Richard's "Learn How To Increase Your Chances of Winning The Lottery".
For media requests, contact Allen Media Strategies Rebecca Fuentes at (407) 826-8960 or rebecca(at)allenmediastrategies(dot)com.
###