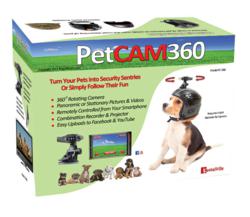 How to re-gift last year's fruit cake in style
Agawam, MA (PRWEB) November 29, 2011
BogusBoxes.com announces the availability of two new joke gift boxes for the holiday season. The first of the two boxes is called the PetCAM360. This box displays a fake 360° rotating camera and video recorder that mounts on top of the family pet's head using a small pet helmet. The device is remotely-controlled using a smartphone with a downloaded application that provides on-screen thumb controls for rotating the device and switching from camera to video modes.
The second box is called the ExhausTXT Car2Car Communicator. This box shows a fake device for texting messages to other drivers using a device mounted to the rear window of a car. This device uses a smartphone generated text message of up to 5 letters and characters and displays them on the rear window, thus providing a Car2Car communication device.
The PetCAM360 is a tongue-in-cheek fake product that turns the family pet into a security sentry. Should that not be the owner's intended purpose, the device can also be used to share the family pet's daily activities. Supposedly, the family could sit around and enjoy the day's adventures with fun-filled photos or videos of fire hydrants, car tires, and the occasional mail carrier. The fake device is meant as a great gag gift for someone whose family dog hasn't quite reached the "watch dog" category, or conversely, as an acknowledgement of superior achievement for a full-fledged, "ever vigilant" family pet.
The ExhausTXT is one of those devices that everyone wishes was real. The box explains that the fake device is intended to alert other drivers of their rudeness when they begin flashing lights, honking horns, tailgating, or otherwise making a nuisance of themselves to other drivers. The box also points out that you can send a "THKS!" message to acknowledge those wonderful people who let you cut in line in front of them, as well as suggest a meeting with a cute driver in another car. That latter message would require an upgrade to the software that would allow a picture of a telephone to appear along with a scrolling telephone number to call. The box comes complete with a glossary of text messages on the back of the box.
These joke gift boxes are intended to conceal other presents for general gift-giving purposes (or possibly to re-gift that fruit cake that's been lying around for a year). Both boxes are now shipping, and you can learn more about them at http://www.BogusBoxes.com. The boxes are 9 x 12 x 4 inches, and are also available on both Amazon and eBay. The special introductory price for either box is $7.99 plus $5 for shipping.
###