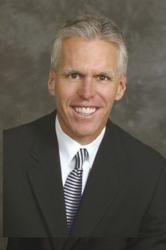 "Today's business climate requires a new mindset and fortitude from leaders. Economic turbulence, globalization and the pace of change are impacting how we operate our organizations," said Jim Ryan, Chairman, President and CEO, Grainger.
Chicago, IL (PRWEB) November 29, 2011
Grainger Chairman, President, and CEO Jim Ryan has accepted an invitation from a group of Chicago-area finance leaders to address and engage the newest chapter of an innovative knowledge-sharing community known as The CFO Alliance.
Mr. Ryan, a DePaul University trustee, The CFO Alliance academic partner in Chicago, will introduce and help to facilitate a discussion titled "Leading in a Global Economy," the first in a series of ongoing peer-to-peer discussions intended to engage and build upon the collective knowledge of The CFO Alliance's growing nationwide community of finance leaders.
"We are very pleased to have as admired a leader as Grainger's Jim Ryan to help engage our finance leaders and lead them in a discussion to explore the opportunities and challenges today's global economy offers," said Nick A. Araco, Jr., Esq., president and CEO of The CFO Alliance. "Few companies today have as penetrating a view into the ebb and flow of the global economy as Grainger."
"Today's business climate requires a new mindset and fortitude from leaders. Economic turbulence, globalization and the pace of change are impacting how we operate our organizations," said Jim Ryan, Chairman, President and CEO, Grainger. "Partnerships among business and academia help foster discussion about the challenges and opportunities we face today and in the future."
With a presence already in ten U.S markets, The CFO Alliance's expansion into Chicago broadens the organization's goal to create and leverage focused and effective peer networks. The continued objective to collaborate and validate decision-making to nurture a healthy and inviting business climate is apparent throughout all CFO Alliance chapters and continues online via the organization's virtual community, AchieveNext.com. Through these efforts, the CFO Alliance continues to effectively connect U.S. middle-market finance leaders to:

Fuel corporate growth
Improve business practices and profitability
Boost overall economic performance in each chapter's region and around the U.S.
Working closely with founding sponsor McGladrey, a leading professional services firm that provides tax and consulting services, and with academic sponsor DePaul University, The CFO Alliance will offer Chicago CFOs the information and guidance they need to lead their organizations through times of challenge and transition. DePaul Department of Finance professors will facilitate discussions designed to expose how CFOs are being recast as champions of change within their organizations while maintaining and growing their influential role with greater leadership, management, and corporate strategy responsibilities.
Slated for Wednesday, Dec. 7, 2011, the inaugural meeting of the newest CFO Alliance chapter will provide a roundtable forum for Chicago CFOs to collectively discuss, debate, and dissect the critical issues that CFOs encounter daily.
To become a member and to register to join the discussion, interested parties are invited to visit http://www.achievenext.com/events (registration is strictly required). The CFO Alliance prescreens all meeting attendees in order to ensure that finance leaders are seated with their peers. Registration is complimentary for qualified first-time attendees. CFO Alliance meetings offer participants 1.5 Continuing Professional Education (CPE) credits. Registration is required.
For updates and information on The CFO Alliance Chicago chapter launch meeting and additional CFO Alliance events nationwide, please visit http://www.achievenext.com/events.
About DePaul
With more than 25,000 students, DePaul University is the largest Catholic university in the United States and the largest private nonprofit university in the Midwest. The university offers approximately 275 graduate and undergraduate programs of study at two Chicago campuses, four suburban campuses, and several international locations. Founded in 1898, DePaul remains committed to providing a quality education through personal attention to students from a wide range of backgrounds. For more information, visit http://www.depaul.edu.
About the CFO Alliance
Established in September of 2007 to promote connectivity through a professional community of leading financial executives, The CFO Alliance brings together the experience, knowledge, and collective wisdom of peers, subject matter experts, and academic authorities to enable senior financial leaders and decision-makers to be more effective and act with greater confidence throughout their career. By fostering relationships among those with common objectives, interests, opportunities, and challenges, financial leaders can make long-term investments in their companies and their careers through sharing expertise and gaining confidence in their roles. Based on the success of the initial Philadelphia-based chapter, The CFOA has established a national expansion, with a current presence in ten U.S markets: New York; Boston; Washington, D.C.; New Jersey; Connecticut; Charlotte; Phoenix; South Florida; Philadelphia; and now Chicago. For more information, please visit http://www.theCFOalliance.org or AchieveNext.com and follow The CFO Alliance community on Twitter @theCFOAlliance.
# # #