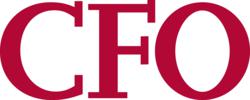 We build our conferences around real-life experiences that are compelling and relevant to the senior finance executive. They leave armed with practical tools and advice that they can put to use right away
New York, NY (PRWEB) November 29, 2011
CFO magazine today rolled out its 2012 portfolio of conferences including seven unique events. Designed to inform, inspire, and propel finance executives into higher levels of performance, each event is unique; with subjects ranging from corporate performance to innovation and best practices in competitive transformation.
"Each event is unique and provides a blend of information and insight as well as a rich networking experience with speakers and attendees in a positive solutions-focused environment," said Deborah Patton, SVP, Conferences. "We build our conferences around real-life experiences that are compelling and relevant to the senior finance executive. They leave armed with practical tools and advice that they can put to use right away."
The 2012 conference portfolio includes:
Tactical and Technical
CPM/T3 — Tactics… Tools… Technology
Accelerating High Performance
January 29–31, 2012
The Grand Hyatt — New York, NY
Emerging Global Financial Trends and Consumer Culture Shifts
CFO Leadership Summit: Resilience and Sustainability
March 11-14, 2012
The Hilton Orlando Bonnet Creek — Orlando, FL
Recognizing Top Women in Finance
Women in Finance — Working Session and Awards Luncheon
May 2012
New York, NY
Bridging Theory to Practice
CFO University — The Brightest Minds in Finance Meet the Brightest Minds in Academia
June 6, 2012
The State Room -- Boston, MA
Strategy and Execution
Corporate Finance Excellence (CFE): How to Create a World-Class Finance Organization
June 2012
Future Financial Leaders
CFO Rising: The Future of Finance Leadership, Bridging Generations
September 2012
Growth Company Issues and Answers
CFO Playbook for Private Companies: Innovation… Growth… Value
Winter 2012
Speakers at each event are well-known leaders of finance and include the CFOs of major corporations as well as thought leaders in management, strategy, and innovation. Upcoming speakers include Robert Kaplan, Marvin Bower Professor of Leadership, Harvard; Jonah Keri, Author, The Extra 2%; Baruch Lev, Philip Bardes Professor of Accounting and Finance, NYU-Stern; and Michael Krzus, Author, Integrated Reporting: Supporting Sustainable Strategies for a Sustainable Society.
CPE credits can be earned at each event, and those that attend more than one CFO Conference in 2012 will receive an exclusive alumni discount on all other CFO events. For more information go to http://www.cfoconferences.com.
About CFO Publishing: CFO Publishing LLC is the leading business-to-business media brand focused on the information needs of senior finance executives. The business consists of CFO magazine, CFO.com, CFO Research Services, and CFO Conferences. CFO's award-winning editorial content and loyal, influential audience make it a valued resource for its readers as well as an effective marketing partner for a wide range of blue-chip companies. CFO has long-standing relationships with more than a half million financial executives.
###