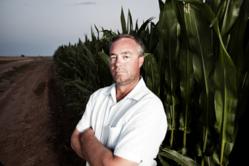 "Immediately I saw Stoller products boost health and take stress off my plants."
Hart, Texas (PRWEB) November 29, 2011
Texas grower, Steven Albracht is finishing up harvest on his 2,000 acre farm in the Texas panhandle. This year, Albracht reported 371 bu/acre on corn fields treated with StollerUSA technology. The 19 bu/acre increase, over control plots, was achieved in severe drought conditions, high temperatures and no rainfall during a five month period.
Albracht's program started with a seed treatment application of Bio-Forge® ST to select hybrids planted in twin rows at a planting population of 48,000. Fields quickly dried out due to the drought conditions and an extended period of high temperatures above 100° throughout the growing season. Even with extreme heat root systems continued to grow and plants stayed healthy. Albracht applied additional Stoller products including X-Tra Power™, Sugar Mover and X-Cyte™ at various growth stages to boost yields even further.
"I walk fields every day. I want to know what's going on in my fields above and below the ground," explains Albracht. "Immediately I saw Stoller products boost health and take stress off my plants. The Stoller program has created a bigger root system to help take up every nutrient out there."
Results are in and with 371 bu/acre over his control plots of 352 bu/acre Bio-Forge ST and the other Stoller products brought the results he wanted. With 1,000 acres of corn and a 19 bu/acre increase, Stoller kept plants healthy from the time the seed hit the ground all the way to harvest providing real results and significant ROI.
"Stoller technology continues to demonstrate its consistent performance in maintaining plant health with unprecedented yields throughout the Midwest," says Wayne Smith, General Manager of StollerUSA. "As stressful weather conditions continue to cause issues in the fields, Stoller products are there to help relieve the stress and boost yields."
In his second year of using Stoller products, Albracht is 100% sold on the technology and convinced by the results he saw almost instantly. Bio-Forge ST is an affordable, cost-effective, university-tested, treatment that ensures seed germination, enhances strong early root growth and offsets the effects of early stress to increase yields.
StollerUSA is dedicated to helping producers enhance yields by maximizing genetic expression. The result is enhanced marketable yield, improved return-on-investment and improved tolerance to disease and other stress. Only Stoller products contain Stoller's proprietary technology that is proven to ensure optimum plant growth by maintaining appropriate hormone balance in combination with supporting nutrients. Validated by Universities nationwide, Stoller's unique formulations result in healthier, more productive crops that are better able to withstand stress and achieve their full genetic potential.
About StollerUSA
Celebrating over 40 years in agribusiness, StollerUSA markets a full line of products to help farmers increase crop yield and quality. StollerUSA, headquartered in Houston, is actively engaged in basic and practical research to enhance crop productivity in more than 50 countries.
###