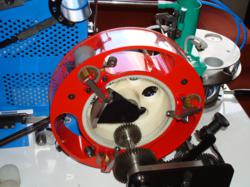 SMT's training program incorporates the use of over 200 hands-on training aids
Londonderry, NH (PRWEB) November 29, 2011
Scientific Management Techniques (SMT) has been delivering their demand-driven manufacturing skills training programs in industrial facilities since 1975. As the manufacturing skills shortage has grown more acute many industrial clients have introduced SMT's programs to their local community college in an effort to shrink the skills gap and have the school provide graduates with the specific skills required to keep the manufacturing facility operating at peak efficiency. This partnership between industry and education has proven to be highly successful, matching the skills of program graduates with the needs of industry. SMT is creating the new division in order to expand their presence in education and meet the needs of organizations looking for an efficient, cost effective solution to the industrial skills shortage.
Mr. Richard Whouley, SMT's Founder and Chairman, describes how his company's solutions have gained traction in education; "we currently have a presence in 18 community colleges in America driven 100% by our industrial clients. These manufacturers have many years of experience measuring the impact our training programs deliver to their bottom line. Based on this success our clients have introduced the training curriculum to their local community college, suggesting the school embrace SMT's proven curriculum. This has proven to be a major win-win, the school delivers highly trained candidates into industry and the manufacturer no longer needs to commit resources to training in their facility. Based on the success of this model we are creating the new Education Division to expand our presence in education and leverage what we know is a highly effective solution to the skills shortage where our curriculum plugs into an environment where industry and education work together to solve the industrial skills shortage."
SMT's hands-on industrial skills training program consists of 23 volumes with 77 units, over 250 hours of manufacturing specific training incorporating the use of over 200 training aids. "The program curriculum is demand-driven," explains SMT's Director of Training Pete Bachert. "Our program curriculum has been designed with extensive input from our global manufacturing clients. We train to the specific skills these manufacturing leaders have identified as critical for long term productive employment. The curriculum has been built through the years by and for industrial operations managers."
The company's four industrial skills assessment machines are used in the hiring process around the world. SMT feels that any training program that trains to the skill set required to post an acceptable score on their assessment machines will be delivering well trained, highly productive candidates into industry. SMT has designed their training curriculum to accomplish this objective.
About Scientific Management Techniques:
Scientific Management Techniques is the global leader in performance based skill assessments for industry. The assessment capabilities, together with their demand-driven skills training program, are used by manufacturing and education organizations in 31 countries to solve the skills shortage and drive industrial productivity.
Contact:
Stephen Berry
603-421-0222
Sberry(at)scientific-management(dot)com
http://www.scientific-management.com
###