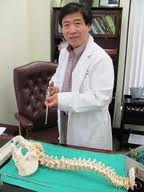 We perform minimally invasive surgery using a small video camera called an endoscope, which lets us see the spine and surrounding tissue without making a big incision
Edison, NJ (PRWEB) November 29, 2011
Back pain is a fact of life for millions of Americans, and only the common cold keeps more people home from work. And while most back pain will go away on its own, pain that's caused by a torn or ruptured disc can be chronic, and debilitating. Before now, the only option for repairing a disc tear was traditional—or "open"—back surgery, a procedure that involved general anesthesia, a hospital stay, and a lengthy recovery. But today, surgeons can repair a torn disc with very little trauma, and have you back on your feet the same day, says Kaixuan Liu MD, PhD, chief surgeon at Atlantic Spinal Care in Edison, N.J.
The anatomy of a tear
When doctors talk about disc tears, they're really talking about ruptures in the annulus fibrosus, the tough outer shell of each vertebral disc that contains a soft, gel-like inner material called the nucleus pulposus. Discs are located between each of the vertebrae in the spine, where they provide stability and act as shock absorbers.
Disc tears are generally caused by disc degeneration, the standard wear and tear that our bodies experience as we age, and/or an accident or injury. If the nucleus moves into the torn space, the condition becomes a disc herniation. Some tears can go unnoticed, but if the nucleus comes into contact with the spinal cord or nerve roots, you'll experience pain in the area surrounding the damaged disc and may also feel pain, numbness, tingling, weakness, or spasms in other parts of the body.
There's also new research suggesting that the pain from a torn disc might be caused by a chemical process, Dr. Liu says. "Studies are finding that tears in the outer annulus stimulate the growth of blood vessels and nerve cells in the area, which help create an inflammatory reaction."
Treatment options
While some patients experience significant disc tear symptoms, others have no sign at all, and can be completely unaware of the tear. Even in cases where a torn disc is causing pain or other problems, doctors recommend conservative measures such as rest and targeted exercises—surgery is always a last resort, most often necessary for only the roughly 10 percent of patients who don't respond to conservative treatment.
But if you do require an operation, there's good news, says Dr. Liu. "The surgery we use to repair disc tears today, called a discectomy, is much less traumatic than it was even a few years back."
During a traditional "open" discectomy, he explains, the surgeon must make a large incision (typically 5 to 6 inches long) and then cut through the muscles surrounding the spine in order to reach the affected disc. Not surprisingly, that type of operation involved long recovery times and large doses of pain medication. (Open surgeries also involve an increased risk of complications, such as infection.)
Today, surgeons can repair the tear with a lot less trauma. "We perform minimally invasive surgery using a small video camera called an endoscope, which lets us see the spine and surrounding tissue without making a big incision," he says. In an endoscopic discectomy, the makes a very small incision, typically less than ¾ in. long, then inserts a small metal tube about the size of a pencil. The tube allows him to use the camera and surgical instruments to make the repair without cutting or tearing the patient's muscles, which ensures less pain and risk of complications and a much shorter recovery time. In fact, most people leave the hospital the same day, and are back to their normal activities in about six weeks.
"Endoscopic procedures are making it possible for patients to find relief from the pain of disc tears and other spinal problems without having to endure a painful, complicated surgery," Dr. Liu says.
About Dr. Liu: Kaixuan Liu, M.D., Ph.D., is a renowned endoscopic spine surgeon and founder of Atlantic Spinal Care, LLC, in Edison, New Jersey (http://www.atlanticspinalcare.com). Dr. Liu is certified by The American Board of Pain Medicine and The American Board of Anesthesiology, and is a member of The International Society for Advancement of Spine Surgery, The American Society of Interventional Pain Physicians (ASIPP), The American Academy of Pain Medicine (AAPM), The International Intradiscal Therapy Society (IITS), and The American Society of Anesthesiologists (ASA). He also serves as an international surgeon for The Spinal Foundations in England.
# # #