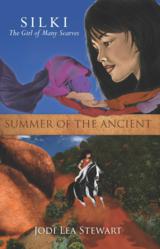 Silki is…both exotic and relatable. Fans of adventures set in alluring places (Island of the Blue Dolphins; Julie of the Wolves) will love Silki and the action-packed excitement she generates in the colorful world of the Navajo Nation." Chris Eboch
Minneapolis, MN (PRWEB) November 30, 2011
Silki—a precocious young Navajo girl—has an over-the-top imagination, a knack for getting into predicaments, and an addiction to scarves. When a character she thought she invented shrieks into her life, Silki's SUMMER OF THE ANCIENT catapults her into a mystery in which nothing is as it seems to be.
Along the way, she becomes the "test rat" for her professor mother's language project, helps a fractured family reunite, and witnesses a legend stretching across fifty-six years to heal the shattered relationship between her and her best friend. The stakes are high. Can Silki navigate between childhood and what lies ahead in the midst of authentic danger in SUMMER OF THE ANCIENT?
Woven with Navajo language, tradition, and lore, this lively first book in a three-book series combines mystery, friendship, adventure, horses, and Native American culture to create a Nancy Drew meets American Girl classic. SUMMER OF THE ANCIENT is a coming-of-age story that will leave readers wanting more.
# # #