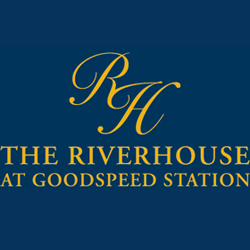 Hartford, CT (PRWEB) November 30, 2011
On Saturday, December 10th from 7:30PM to 11:00PM the Riverhouse at Goodspeed Station in Haddam, CT will host a special holiday open house, a celebration for smaller groups, together for one large event. Great for family, friends and small businesses, The Riverhouse holiday open house will feature a variety of gourmet cuisine, a DJ from Power Posse Productions and the exclusive ambiance of one of Connecticut's premier banquet and event facilities.
As the holiday season kicks off, The Riverhouse is hosting an event that would bring together unique groups to share in a larger holiday atmosphere. With their exclusive Holiday Open House, small businesses, family and friends can all mingle in the spacious Goodspeed ballroom or more intimate Swingbridge Room. The holiday event will begin at 7PM with a chef's selection of butlered passed hors d'oeuvres and cocktail hour.
The Riverhouse is offering a special $59 per guest ticket price that includes food, entertainment and the one hour open bar. Riverhouse Catering will be overseeing the special holiday menu that will include baked brie with raspberry preserves, sweet potato and Yukon Gold mashed potatoes, seared sea scallops over Orzo pilaf and Maryland lump crab cakes with smoked corn relish. This savory catering menu will be followed by a chef's choice of holiday desserts, coffee and specialty teas.
In addition to the special Holiday Open House, The Riverhouse is available for private events including business meetings and family gatherings. Using either the 300-seat Goodspeed ballroom or more intimate Swingbridge Room, The Riverhouse is the perfect banquet facility to host a magical and fun holiday party. With 5-star hospitality and service your holiday event will be treated with exquisite care and consideration so all your guests feel welcome.
Nestled on a secluded ridge atop the banks of the Connecticut River, The Riverhouse enjoys breathtaking views, a two-story atrium with a grand staircase leading to private suites and offices and a main ballroom with dramatic vaulted ceiling. The event facility also overlooks the historic East Haddam Swing Bridge and Goodspeed Opera House which makes for amazing photo opportunities.
If your company or office plans to host its own holiday party, Riverhouse Catering can provide exquisite off-site catered cuisine for office luncheons, cocktail parties or private dinners. From cocktail party sandwiches and salads to full-course meals including appetizers, entrees and special holiday desserts, Riverhouse Catering can go from elaborate to simple and always deliver world class service and cuisine.
Press Release services provided by Keyword Performance an Internet marketing firm specializing in search engine optimization.
# # #