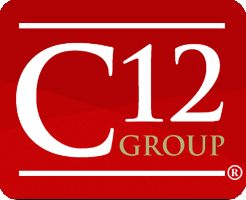 "The greatest blessing that I have in C12 is seeing and hearing how it serves and contributes to others," according to Buck Jacobs.
Greensboro, NC (PRWEB) November 29, 2011
The C12 Group is celebrating its 20th year as America's leading equipper of Christian chief executives through its peer CEO roundtables, one-on-one counsel, seminars, conferences, and a unique repository of cutting-edge business and ministry resources. C12 was founded in 1992 by Buck Jacobs, a dedicated Christian CEO and author who began working with business leaders who desired to "go deeper" in their businesses. The C12 engagement model offers an opportunity for lifelong learning and being stretched and challenged by trustworthy non-competing peers who encourage, brainstorm, and hold each other accountable for both business performance and ministry impact through the application of Biblical Christian principles. For the last 20 years, Buck has witnessed the steady growth of new Chairs and members becoming part of C12. He remarked, "The greatest blessing that I have in C12 is seeing and hearing how it serves and contributes to others."
In 1992, Buck developed the C12 Group's proprietary process, various tailored product offerings, and a body of targeted leadership, general management, and marketplace ministry materials aimed at increasing the fruitfulness of executives. By integrating 'best-in-class' business practices with timeless Biblical application, C12 became known as a practical, targeted, and highly effective resource to address a Christian leader's real-life concerns and opportunities. This proven impact was underscored in a 2006 C12 study that compared the performance of long-term C12 members against a cross-section of U.S. small-to-midsized leadership companies captured in a study sponsored by The Business Roundtable. Looking at the decade spanning 1995-2005, C12's member companies outperformed their marketplace counterparts in compound annual sales and profit growth by more than three-to-one. More importantly, says Jacobs, the number of adults coming to a saving relationship with Jesus Christ in these long-time C12 companies far exceeded the typical number of annual salvations enjoyed by the average American church.
What began as a solitary Christian CEO roundtable practice with three groups in the Tampa Bay area has now grown to more than 1000 members in more than 100 groups and 65 metro areas across America. C12 members span all industries and range in size from $1 million to more than $1 billion in annual sales. According to Don Barefoot, C12's President and CEO, "C12 has been a source of blessing to more than 3000 Christian CEOs, Presidents and Owners, as well as an estimated 12 to 15 million stakeholders in these companies – employees, customers, suppliers, and shareholders – many of whom have either come to the Lord, been encouraged in their Christian faith, or been served in the love of Christ through their everyday interactions with C12 member companies that share a bit of God's provision and purpose."
C12 recently launched its 20th year by hosting a successful Leaders Conference in Orlando, FL with record attendance in excess of 400 Christian CEOs and spouses, despite the weak economy. The conference theme, Standing in the Gap, was devoted to providing inspiration and practical help through a variety of business and ministry topics to Christian CEOs dedicated to Building GREAT Businesses for a GREATER Purpose. With such continued growth and interest, Buck says, "An idea that many said couldn't work has flourished into the growing C12 organization we see today, 20 years later, growing at double digits by doing things God's way and still working to provide our members with real value and a safe community of like-minded peers." Barefoot chimed in, "The combination of servant leadership, continual peer sharpening, and the well-informed application of timeless truths is an unbeatable combination for Christian CEOs looking to develop their businesses to the next level while leading and living in a way that makes an eternal difference."
If you would like more information on The C12 Group, please go to http://www.C12Group.com or contact C12 Home Office (336-841-7100 or info(at)C12Group(dot)com).
The C12 Group
4101 Piedmont Parkway
Greensboro, NC 27410
Phone: 336-841-7100
info(at)C12Group(dot)com
http://www.C12group.com
###