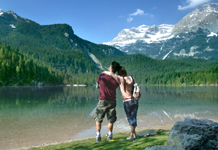 (PRWEB) November 30, 2011
Upstairs helped Nestle finalize three television commercials and a chain of 24 different online spots for their coffee brand Nescafé. The three television commercials ask for audiences to search for Nescafé online to view the various dance lessons taught by Spanish choreographer Javier "Poty" Castillo of Univision's MQB (¡Mira Quién Baila!). The project, produced by Red Creek, left Upstairs in charge of editing, motion graphics, animation, color correction, and audio post-production for the multitude of spots.
Meanwhile, Nature Valley's ad remains more traditional preserving their image of greenery, lush landscaping, and promoting healthy lives through outdoor activities. The television commercial, titled "See It For Yourself" and produced by Base Camp, called for Upstairs' abilities to maintain the company's long-lasting presence through editing by Pablo Piriz, who worked on both projects.
Upstairs continues to balance working on a variety of projects while perfecting each one, respectively.
Credits:
Client: Nature Valley
Title: See It For Yourself Advertising
Agency: Casanova Pendrill
Post-Production Company: Upstairs
Editor: Pablo Piriz – Upstairs
Color Correction: Rudel Reyes - Upstairs
Audio Post: Uptempo
Credits:
Client: Nestle – Nescafe Clasico
Title: Nescafe clasico Poty
Advertising Agency: Casanova Pendrill
Post-Production Company: Upstairs
Editor: Pablo Piriz – Upstairs
###