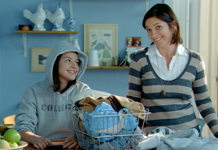 "The creative challenge," said Upstairs Editor Omar Tinoco, "was to choose footage at the right time where the actors were spontaneous and natural as to how their characters felt about Tide."
(PRWEB) November 30, 2011
"Mi Tide" calls upon the audience to decide which brand of Tide they, respectively, use or connect with the most. The series of spots essentially ask anyone "What is your Tide?" by echoing sentiments that the brand of Tide they use is their own through humorous vignettes from various points of view.
"The creative challenge," said Upstairs Editor Omar Tinoco, "was to choose footage at the right time where the actors were spontaneous and natural as to how their characters felt about Tide." The result was nothing short of an unequaled achievement. Through fine-tuned editing, the ads practically felt improvised. More so, the great quantity of material allowed for various versions of the same commercial, further adding to the impulsive ambiance.
The campaign even made use of staged bloopers in which the actors talked about their personal Tide brand between takes as the camera was still rolling.
Creating a series of ads that feel completely natural and genuine is no small feat. But with a deliberate editing process, even seemingly daring challenges can be successfully accomplished.
More information about Upstairs
Upstairs is an award winning full-service post-production company located in Miami, Florida specializing in art direction, editing, color correction, visual effects, animation and motion graphics for TV commercials, motion pictures, broadcast networks and corporations.
# # #