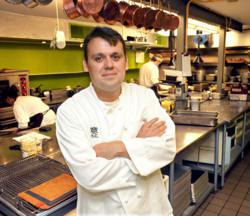 All over the world, there are innovators who have worked in relative obscurity, quietly changing the world in unimaginable ways. I can't wait to introduce them to viewers on The Next List
Chicago, IL. (PRWEB) November 28, 2011
CNN's The Next List is news that introduces innovators from around the world who are on the cutting edge of their field. It offers an in depth look into Homaro Cantu's culinary vision and story as well as how miracle berries have been playing a role in overcoming obstacles in both.
Dr. Gupta says about the show, "All over the world, there are innovators who have worked in relative obscurity, quietly changing the world in unimaginable ways. As a global reporter, I have had the chance to see them at work, and I can't wait to introduce them to viewers on The Next List."
A large part of Chef Homaro Cantu's notable work has been his integration of miracle berries into his restaurants' menu and how mberry can help create healthier alternatives. At Moto restaurant diners eat the miracle berry which radically changes not only the taste but your entire experience of food. Just recently Cantu also decided to apply his unique concept on "flavor changing" to delicious cocktails at iNG restaurant's newly opened patio.
But beyond the novelty of miracle berries' flavor-tripping qualities, it's the positive health implications that Chef Cantu is focused on. Cantu has spoke on the potential use of the miracle berry with cancer patients undergoing chemotherapy. Typically chemo patients experience a metallic aftertaste and miracle berry's natural properties of masking bitter and sour flavors makes eating a healthy diet easier while going through the treatment. On the show Cantu also shares his vision for addressing global hunger and how opening up his invention called "The Matrix" can help other restaurant owners manage their valuable resources.
The episode aired Sunday the 27th of November at 2 EST on CNN's The Next List.
Contact:
Lauren Brice
mberry
681 W Wildhorse Dr.
Chandler, Arizona 85286,
United States
Tel: 480.248.9962 ex 102
http://mberry.us
# # #