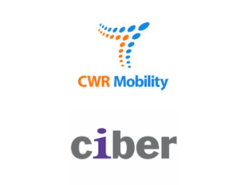 Identifying demand for mobility among our client base it was key that we found a partner mobile solution capable of delivering, supporting and extending the consultancy services we offer around Microsoft Dynamics CRM; we found that partner in CWR Mobility
Nijmegen, The Netherlands and Greenwood Village, Colorado USA (PRWEB) November 30, 2011
CWR Mobility, the leading provider of mobility solutions for Microsoft Dynamics® CRM, and CIBER, the global IT consulting, services and outsourcing company and Microsoft Dynamics Inner Circle 2011 member, announced today that they have formed a new partnership in which CIBER will offer advanced mobile CRM solutions to its customers based on award-winning software from CWR Mobility. As part of this business relationship, CIBER has joined the CWR Mobility Partner Program as a Certified Partner.
CWR Mobility develops and markets CWR Mobile CRM, the best-in-class mobility solution for Microsoft® Dynamics CRM 2011 that enables field sales, service and marketing professionals to be more effective and efficient -- to get and stay closer to customers. Innovative software products from CWR Mobility provide CIBER with the critical fundamentals essential to successfully enter the mobile CRM market and deliver market-leading solutions to their customers.
"Having identified an increased demand for mobile working solutions among our customer and prospect base it was key that we found a partner mobile solution that was capable of delivering, supporting and extending the consultancy services we offer around Microsoft Dynamics CRM," said Malcolm Jones, Marketing Director, CIBER UK. "CIBER is a member of the prestigious 2011 Inner Circle for Microsoft Dynamics, which recognises the top 1% of Microsoft partners that have achieved extraordinary business success and growth through innovative use of Microsoft applications, so it was important that the partner mobile solution we selected would enhance our offering when competing for new business. The CWR Mobility solution gives us that."
CWR Mobility recently introduced a new version of CWR Mobile CRM 2011 that offers mobile dashboards, a new data visualization tool that enables field professionals to easily track the business data and intelligence that matters to them most, so they can act on that information when it matters most. CWR Mobile CRM 2011 makes any dashboard created using one of the native Microsoft Dynamics CRM 2011 dashboards available to users as a real-time, online dashboard on their iPad®, iPhone®, BlackBerry® and Windows® Phone 6.5 mobile device. Also recently introduced was a new evaluation version of CWR Mobile CRM 2011 for Android™ devices. CWR Mobile CRM 2011 easily integrates with customers' Dynamics CRM 2011 systems, whether running in the cloud or on-premise.
"Businesses around the world are looking for ways to get closer to their customers and make their customer-facing organizations more effective and more efficient," said Mark H. Corley, CEO of CWR Mobility, the global 2011 and 2010 Microsoft Partner of the Year for Mobility Business-to-Business Applications. "The global presence and Dynamics CRM consulting expertise offered by CIBER, combined with our award-winning Mobile CRM solution, presents an outstanding opportunity for these companies to achieve these goals."
Businesses and Partners interested in learning more or beginning a free 30-day cloud or on-premise trial are invited to visit cwrmobility.com.
About CWR Mobility
Our mission at CWR Mobility is to help organizations gain The Power of Close™ -- the power to get closer to customers and stay there, increase customer satisfaction and loyalty while reducing the costs of customer interaction, and create a more agile and effective customer-facing organization. By offering the most advanced, multi-platform mobile CRM solutions -- based on the Microsoft Dynamics CRM platform – CWR Mobility continues to set the mobility standard for the entire CRM industry. CWR Mobility and its partners uniquely empower customers to drive business results through rapidly deployed mobile applications.
About the CWR Mobility Partner Program
The Mobile CRM market is expanding rapidly, creating substantial opportunity for system integrators, value added resellers and consultants who help their customers gain The Power of Close. The CWR Mobility Partner Program provides these companies with the critical elements essential to successfully enter the mobile CRM market and deliver market-leading solutions to their customers based on best-in-class software products from CWR Mobility. For more information, or to inquire about partnership opportunities, visit http://www.cwrmobility.com/partners/become-a-mobile-crm-partner.
About CIBER
CIBER is a global information technology consulting, services and outsourcing company applying practical innovation through services and solutions that deliver tangible results for both commercial and government clients. Services include application development and management, ERP implementation, change management, project management, systems integration, infrastructure management and end-user computing, as well as strategic business and technology consulting. Founded in 1974 and headquartered in Greenwood Village, Colorado, CIBER has more than 8,500 employees and operates in 19 countries, serving clients in North America, Europe and Asia/Pacific. Annual revenue in 2010 was $1.1 billion. CIBER trades on the New York Stock exchange (NYSE: CBR), and is included in the Russell 2000 Index and the S&P Small Cap 600 Index. For more information, visit http://www.ciber.com.
The Power of Close is a trademark of CWR Mobility BV. Microsoft, Windows and Microsoft Dynamics are either registered trademarks or trademarks of Microsoft Corporation in the United States and/or other countries. iPhone and iPad are trademarks of Apple Inc., registered in the U.S. and other countries. The trademark BlackBerry is owned by Research In Motion Limited and is registered in the United States and may be pending or registered in other countries. CWR Mobility BV is not endorsed, sponsored, affiliated with or otherwise authorized by Research In Motion Limited. Android is a trademark of Google Inc. Use of this trademark is subject to Google Permissions. Other trademarks mentioned in this press release may be held by their respective owners and/or their suppliers.
PRESS CONTACTS
CWR Mobility B.V.
Brian Craig
Vice President, Marketing
craig(at)cwrmobility(dot)com
Tel. +1 (425) 947-4751
cwrmobility.com
CIBER
Garry Stewart
Marketing Campaigns Manager
garry.stewart(at)ciber(dot)com
Tel. +44 (0) 870 000 0204
ciber.com
# # #