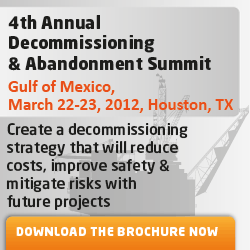 (PRWEB) November 30, 2011
According to sources at DecomWorld, one of the most mature oil producing regions in the world, the hurricane-prone Gulf of Mexico faces enormous liability and costs relating to ageing infrastructure and hurricane damaged offshore installations. With these issues in mind, The Bureau of Safety and Environmental Enforcement will join the key major and independent operators working in the region to discuss effective decommissioning strategies for 2012 and beyond.
The Decommissioning & Abandonment Summit is the only place where you'll be able to hear from the key operators driving their decommissioning plans forward, BSEE experts on regulatory & licensing updates AND the major technology and service providers producing innovative new ideas for the industry. The conference will give updates on key decommissioning projects in the Gulf of Mexico as well as a day wholly dedicated to well plugging and abandonment and facility decommissioning.
Since its inception in 2009, the D&A Summit has had over 1,200 attendees from 350+ decommissioning organizations in 15 countries. This year, conference delegates will also be able to take advantage of a 60 booth exhibition space displaying all the latest decommissioning technologies and innovative services, value added workshops covering subsea decommissioning, HR issues and cost estimations as well as hosting the quarterly Decommissioning Operators Group meeting.
For more information on the 4th Annual Decommissioning and Abandonment Summit which is taking place in Houston Texas on March 22-23 visit http://decomworld.com/decommissioning/download-brochure.shtml
###