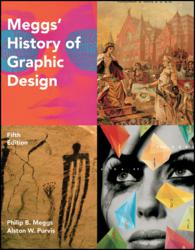 Hoboken, New Jersey (PRWEB) November 29, 2011
In its debut edition in 1983, A History of Graphic Design received accolades from the Association of American Publishers as a publishing landmark that offered unrivaled coverage, balanced insight, and thorough historical background. Now in its Fifth Edition and still widely accepted as the most authoritative book covering graphic design, MEGGS' HISTORY OF GRAPHIC DESIGN, FIFTH EDITION (John Wiley & Sons; $85.00; December 2011) offers even more detail and breadth of content than its heralded predecessors, revealing a saga of creative innovators, breakthrough technologies, and important developments responsible for paving the historic paths that define the graphic design experience. Bringing this classic into the modern age is a spectacular suite of digital products, including:
•E-books available for all e-readers, including Kindle, the Nook and iPad
•Mobile flashcard app for Apple and Android platforms featuring 250 images to test yourself on the titles of work, their designers, and year of creation
•And last but not least an innovative interactive iPad edition from Inkling which brings narrative graphic design history to life.
For more information please visit: http://www.inkling.com/store/history-of-graphic-design-phillip-meggs-5th
Graphic design is a vital component of each culture and period in human history, and MEGGS' HISTORY OF GRAPHIC DESIGN, FIFTH EDITION was carefully reviewed and updated to best represent the work of particular time periods and designers. In addition to classic topics such as the invention of writing and alphabets, the origins of printing and typography, and postmodern design, this edition presents new information on current trends and technologies sweeping the graphic design landscape such as the web, multimedia, interactive design, and private presses, thus adding new layers of vivacity to an already rich resource. Now the gold standard reference in graphic design, this Fifth Edition surpasses in detail through the content, design, and color reproduction of previous editions. With more than 1,400 high-quality images throughout, many new or newly updated, MEGGS' HISTORY OF GRAPHIC DESIGN provides a wealth of visual markers for inspiration and emulation.
Credited for shaping the academic field of graphic design, this new edition is essential for students, as well as professionals, and everyone who works with or loves the world of graphic design. MEGGS' HISTORY OF GRAPHIC DESIGN is a landmark text and will quickly become an invaluable guide that everyone will turn to again and again.
ABOUT THE AUTHORS:
The late Philip B. Meggs was a designer, educator, and author. He was School of the Arts Research Professor, Communication Arts and Design Department at Virginia Commonwealth University; visiting faculty at Syracuse University and the National College of Art and Design in Dublin, Ireland; and contributing editor to Print magazine. He authored more than a dozen books and 150 articles and papers on design and typography, including a section on graphic design in Encyclopedia Britannica. He was inducted into the Art Directors Hall of Fame and received its Educator's Award for lifetime achievement and significantly shaping the future of the fields of graphic design education and writing.
Alston Purvis (Lincoln, MA) is Professor of Graphic Design at the Boston University College of Fine Arts. During his career, he has worked as an instructor at The Cooper Union and the Royal Academy of Fine Arts at The Hague. His photographs have been exhibited in Amsterdam, London, New York, and Paris. He is the author of Dutch Graphic Design: 1918–1945 and H. N. Werkman; and coauthor of Graphic Design 20th Century; A Century of Posters; Wendingen: A Journal for the Arts 1918–1932; Creative Type; Dutch Graphic Design: A Century of Innovation; Jan Tschichold: Posters of the Avant Garde; Posters NL; Jan Tschichold, Master Typographer: His Life, Work and Legacy; The Ballets Russes and the Art of Design; and Type: A Visual History of Typefaces and Graphic Styles.
MEGGS' HISTORY OF GRAPHIC DESIGN, Fifth Edition;
Published by John Wiley & Sons, Inc.
Publication date: December 12, 2011;
$85.00; Hardcover; 624 pages; ISBN: 978-0-470-16873-8
###