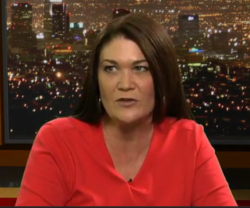 Every individual has the ability to achieve true personal success and a new level of physical fitness
Corona, CA (PRWEB) November 30, 2011
The winner of the 100 Mile Club's 100 Mile Endurance Race was Benjamin Haldeman. He completed the course with a finishing time of 21 hours, 19 minutes. All race proceeds from the race went to the 100 Mile Club® – a charity which challenges school age children to run or walk 100 miles at school during a single school year. They're committed to improving readiness for children to learn, thus creating better educational outcomes. The program includes building self-esteem and overall improved health in the lives of school children and others.
Founder Kara Lubin spoke to SoCal CEO's Linda Reifschneider about her program, the 100 mile Endurance Race and more. Lubin was a Special Education Specialist working with students who had been labeled under-achievers, hyper active, and a few other not very success-oriented names. Lubin realized that all these kids needed was a focus for their considerable energy and to learn what a goal was and how to achieve it. She started with thirteen students, telling them that they were going to run 100 miles during the school year. Many doubted their ability to meet what sounded like an impossible goal. However, at the end of the school year, not only did every one of the thirteen meet their goal, several exceeded it!
Lubin's philosophy is simple, she believes that every individual has the ability to achieve true personal success and a new level of physical fitness by accepting the challenge of running or walking 100 miles during a single school year. These feelings of personal success and fitness are ones that will carry participants to new levels of achievement in academics, athletics, and implementation of the valuable life skills as identified in the bricks of Coach John Wooden's Pyramid of Success.
The 100 Mile Club teaches team building, encouragement and mentoring within each club. "You see the more athletic individuals encouraging and mentoring those that might need that little extra boost," says Lubin. "You also see the slower, more focused students showing others how to reach the goal by slow methodical achievement of each step of the goal along the way."
Lubin hopes students will walk away with from the program knowing how to set a goal, and then achieve it. It builds self confidence, and starts what Lubin hopes will be a lifelong association with physical fitness.
Corporate programs are the newest addition to the 100 Mile Club. The idea is that as a business person, you can sign up and also sponsor a child in the program. So, for the cost of what many spend on coffee each day, you can change your life and that of a child. Even better, many of the business clubs start going to the 100 Mile Club schools to run or walk their weekly miles. They're serving as role models for young people by running or walking with them, doing it together. Lubin stated, "you have no idea how fun it is to watch a student see an adult wearing a club shirt, and having a conversation about achieving that goal. It changes your lives."
The Mission of The 100 Mile Club is to provide to all students the opportunity to experience the powerful feeling of fitness and TRUE personal success by Accepting the Challenge of running 100 miles at school during a single school year.
For more information
Contact
Kara Lubin
kara(at)100mileclub(dot)com
(951) 218-5503
###