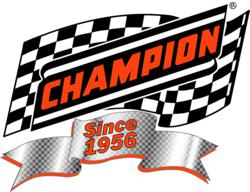 Champion Oil Celebrates Fifty-Five Years of Excellence in the Lubrication Industry
Clinton, MO (PRWEB) November 30, 2011
Champion's many successes over the past 55 years are due to loyal customers who share mutual honesty and respect. Also important to Champion are the many employees who show a dedication to value, fair prices, advancements in technology, and excellence in customer service.
This week in Florida, Champion will featured at the Performance and Racing Industry Show (PRI), a line of purpose-built Performance Diesel Oils, Classic & Muscle Motor Oils, Racing Oils, Engine Break-In Oil, and Racing Brake Fluid.
Champion "Classic" Blue Flame® Performance Diesel Oil is a unique hybrid synthetic blend 15W-40 diesel engine oil designed for pre-2007 engines that combines workhorse high-zinc performance additives, superior protection, advanced polymer technology, and high TBN; supported by a carrier blend of synthetic and conventional base fluids to increase horsepower and torque.
Champion "Classic & Muscle" Motor Oils are purpose-built full synthetic and synthetic blend motor oils for the classic, vintage, hot rod, and muscle car market. These "purpose built" Motor Oils contain a high zinc and phosphorous formula designed to deliver the correct balance of chemistry to protect vintage and high Performance engines, especially those using flat tappet and/or roller cams operating at high RPM's and requiring high-pressure valve springs.
Champion "Racing" Oils are designed for high performance applications and are available in a variety of multi-viscosity and straight weights using full synthetic and synthetic blend formulations. These performance oils contain Champion's proprietary TVS® (Thermal Viscosity Stabilizer), special lubricity modifiers, and a premium level of anti-wear additives, which include a high quantity of ZDDP.
Champion "PowerShield®" Break-In Motor Oil is specifically formulated to reduce the potential of engine failure during hard break-in. This new high-zinc formulation is based on extensive testing in the lab, precision dynamometers, and in conjunction with "world-class" performance engine builders.
Champion "600 Series" Racing Brake Fluid Dot 4 was developed for extreme racing applications where a maximum dry boiling point is preferred. This Synthetic Racing Brake Fluid is a high-performance brake fluid developed for severe duty racing applications under high heat and extreme pressure and is race-proven by domestic and international top-tier teams.
About the company: Champion Brands, LLC, is a globally recognized industry leader in specialty lubricants for over 55 years. Champion also produces and blends over 300 products including fuel, oil, engine additives, and lubricants for the automotive, heavy truck, agricultural, industrial, and specialty markets. For more information contact your nearest Champion Distributor, or call Champion at 800-821-5693. Champion Brands, LLC; 1001 Golden Drive, Clinton, MO, 64735 or go to http://www.ChampionsUseChampion.com.
###