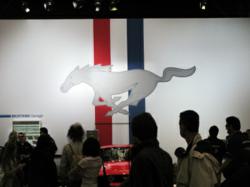 What was previously only available in luxury segment vehicles is now starting to become standard across all types of makes and models.
Jacksonville, FL (PRWEB) November 29, 2011
At Mike Davidson Ford in Jacksonville, FL the staff is proud to be carrying the 2012 Ford Mustang and other great Ford models for the car-buying public's consumption. Whether a consumer is looking to buy a new Ford Mustang in Jacksonville or any other model of new Ford in Jacksonville or a used Ford in Jacksonville, the Mike Davidson Ford dealership's got them in stock. The 2012 Ford Mustang has just been named one of the NADA Guides' recommended buys. The list is named based on an analysis of such things as depreciation values, rebates and dealer incentives, available features, and warranty and assistance services.
NADA is the National Automotive Dealers Association, and according to Troy Snyder, the NADA Guides' director of product development, "What was previously only available in luxury segment vehicles is now starting to become standard across all types of makes and models. These features, coupled with a great warranty, additional customer services such as free maintenance, and competitive incentives, are making many new vehicles much more attractive for car buyers."
The NADA Guides also made note of the fact that the 2012 Ford Mustang only had a 12% depreciation rate in the first year along with competitive pricing, ranging from the V6 coupe at the low end to the Shelby GT500 at the high end, which NADA Guides recognizes as a value for what consumers receive. Ford's website also notes an additional $1000 cash back and better financing rates if consumers finance for shorter terms. NADA Guides references the warranty and roadside assistance program of the Mustang as a positive, and that "the speed and horsepower make it a great choice for muscle car customers at these prices."
And isn't more bang for your buck what it's all about? During these uncertain times, consumers in all buying markets are becoming more and more meticulous in their search for the best bargains available. And it's never been more true than with big-ticket items like automobiles and trucks. Gone are the days of impulse buying. Not with all the belt tightening currently going on.
That's precisely the reason used vehicles are becoming increasingly popular. For those individuals in the market for used cars in Jacksonville or used trucks in Jacksonville that have been certified by a trusted source for dependability and road worthiness, Mike Davidson Ford should be considered that trusted source for all new and used car buying needs.
As the year soon draws to an end, dealerships across the country will begin their end-of-year sales in an attempt to liquidate their pre-existing stock on hand to continue to make room for the new makes and models arriving daily, and for automotive customers this is the time to make their move. It's precisely at this time of the year that the best deals with the best rates are to be had to the car buying public at large. Anyone in the market for a vehicle is strongly encouraged to take advantage of these deals while they last by consumer advocates everywhere.
###