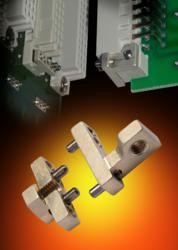 "The Schroff conduction-cooled keying system used in conjunction with our Wedge-loks™ offers a solution that solves both installation and heat dissipation issues caused by limited available space."
Anoka, MN (PRWEB) November 30, 2011
Pentair Technical Products, Schroff is now offering the Calmark/Birtcher line of conduction-cooled keying system ideal for applications that require a more robust solution than conventional front-panel assemblies, such as military and ruggedized systems. The coding system ensures that PCBs are inserted into the correct slots, allowing reliable operation—even in demanding environments.
Conventional keying systems solve IEEE 1101.10 specifications by providing a method for keying slots using programming keys inserted into the front panel assembly and card guide. However, many military and ruggedized systems do not use this front panel system due to space constraints. The Schroff conduction-cooled keying system solves these applications while complying with VITA 1.6. The mating halves of the Schroff coding keys are attached to the rear edge of the board and backplane of the system, allowing for a more efficient use of space.
"In today's world, space is a premium in any type of electronic application," said Anthony Robinson, Category Manager. "With demand, particularly in military applications, for devices that are small yet powerful, the Schroff conduction-cooled keying system used in conjunction with our Wedge-loks™ offers a solution that solves both installation and heat dissipation issues caused by limited available space."
The coding keys are fully compliant with the VITA 1.6 standard, which defines a keying system for VME64x boards and backplanes in an IEEE 1101.2 conduction-cooled environment. In addition, the devices can be used successfully in IEEE 1101.10 non-conduction-cooled applications where there is no front panel.
Offered in six different configurations per coding bracket set, the coding keys offer the versatility needed to solve a broad variety of application requirements. A total of 36 configurations are available in a 6U conduction cooled application, and up to 1,296 keying combinations in a 6U non-conduction cooled application. Coding keys feature a choice of gold or clear chemical film finish and can be specified with metric or imperial threads. The coding keys are supplied individually or in kits containing two mating pairs, with mounting screws and washers included.
About Pentair Technical Products
Pentair Technical Products, a Pentair global business unit, is the leading provider of worldwide product and service solutions for enclosing, protecting and cooling electrical and electronic systems. Its industry-leading brands—Hoffman®, Schroff®, McLean® Cooling Technology—provide a broad variety of standard, modified and engineered solutions to the commercial, communications, energy, general electronics, industrial, infrastructure, medical, and security and defense markets.
For more information, visit schroff.us or contact Pentair Technical Products at 170 Commerce Drive, Warwick, RI 02886.
About Pentair, Inc.
Pentair (http://www.pentair.com) is a global diversified industrial company headquartered in Minneapolis, Minnesota. Its Water Group is a global leader in providing innovative products and systems used worldwide in the movement, treatment, storage and enjoyment of water. Pentair's Technical Products Group is a leader in the global enclosures and thermal management markets, designing and manufacturing thermal management products and standard, modified, and custom enclosures that protect sensitive electronics and the people that use them. With 2010 revenues of $3.0 billion, Pentair employs over 15,000 people worldwide.
Media Contact: Jaclyn Larson (Next Communications). Phone: 952-934-8220. Email: jaclynl(at)nextcom(dot)com.
###