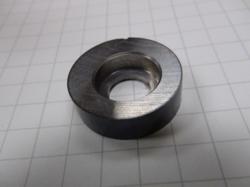 The thinner the metal, the faster the laser can cut.
Waukesha, WI (PRWEB) November 29, 2011
Rentapen's metal laser cutting services combined with its CNC is creating custom made rest pads. These custom made rest pads were requested by a customer for a specific build job. It's a .25 inch 4140 PH hardened steel. Rentapen is laser cutting the diameter and using the CNC to make the C'BORE.
Rentapen has a Mitsubishi laser which can cut up to 1 inch mild steel, .5 inch stainless steel, and .5 inch aluminum. Rentapen created a process so they can adjust the files to utilize most of the sheet so there is less waste. Rentapen's Just-In-Time Laser Cutting Services ™ can reduce inventory costs for manufacturers, because Rentapen's laser is available for large or small orders.
"We price our services based on the price of material and how fast the laser cuts" said Jeremy Dickinson, Manager of Manufacturing at Rentapen. "For example, the thinner the metal, the faster the laser can cut."
Rentapen Inc. is a machine design company specializing in cost reductions for manufacturers. We do this through excellence in machine design, RAPid Tooling Components ™ (a line of standard yet versatile blocks, plates, clamp risers, and shims used to reduce the cost of jigs and weld fixtures); and Just-in-Time Laser Cutting Services ™. Rentapen is located in Waukesha, WI.
###