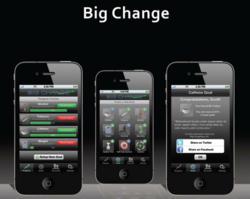 Big Change's innovative functionality allows users to have both the technological and social support that fosters successful goal achievement
Atlanta, GA (PRWEB) November 30, 2011
Kaizen Qualities LLC has finished launching all three components of its Big Change suite. With the Big Change mobile app now available for download in the iTunes App Store, the launch of the complementary website and Facebook page make Big Change one of the first productivity apps designed specifically for achieving goals to incorporate all 3 tools effectively.
Built primarily as an app for iPhone®, Big Change's innovative functionality allows users to have both the technological and social support that fosters successful goal achievement.
"It's built around what we consider the four cornerstones of successful goal achievement: clear definition, personal accountability, progress measurement, and rewards for positive behavior," said co-creators Jarrett Hill and Scott Brown. "Big Change is not only a mobile app, but also an evolving community with a website and Facebook presence focused on making a positive difference in how people live."
Big Change allows the user to associate up to 8 preset goals and 1 custom goal with a corresponding financial reward account. Big Change tracks and reports on progress and account balances. Additionally the user is encouraged every step of the way with motivational quotes from leading sources. Big Change integrates with Facebook and Twitter, allowing the user to share goals and activity with their social network, adding another level of fun and motivational support.
Key Features:

Sleek, sophisticated user interface with Apple-like appeal and simplicity
Continuous tracking allows for review of goals and progress
Indicates when no recent activity has been recorded
Integrates with Facebook and Twitter accounts
Compatible with iOS 3 or higher devices
Kaizen Qualities LLC, creator of Big Change, is a company dedicated to improving people's quality of life. The company, a recent startup, seeks to incorporate traditional and new media in a manner that makes its customers highly effective in the pursuit of their goals, achievement of New Year's resolutions, and breaking non-productive or harmful habits. Big Change's website and Facebook page provide individuals the community and motivational resources that they need to succeed. For more information visit: http://www.bigchangeapp.com.
###