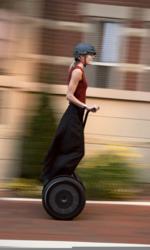 (PRWEB) November 29, 2011
Beginning in early December, 2011, visitors to, and residents of, Chiang Mai can participate in a two-hour tour of the ancient city, while gliding on a Segway Personal Transporter (PT), the world's first electrical self-balancing personal transporter.
Segway Gibbon™ is being introduced in Chiang Mai by the same people who bring Flight of the Gibbon jungle zip line tours, homestays and adventure tours to Thailand. Flight of the Gibbon Tours are offered outside Chiang Mai and also in Southern Thailand, at Chonburi near Bangkok and Pattaya.
Each Chiang Mai glided tour is guided by our glide guys and is limited to eight participants in each two-hour segment. Each tour will glide to, and stop to visit, such culturally significant landmarks as Wat Phra Singh, Thapae Gate, Wat Pan Tao, Wat Chedi Luang, Wat Chiang Man and Three Kings Monument. There will be four tours offered each day, seven days per week.
Segway personal transporters are popular in cities around the world such as Bangkok, Paris, London, Berlin and Washington, D.C. and are a unique and exciting way to see much more than can be seen by walking the same routes. The Segway PT intuitively and automatically balances the way humans do by moving forward and backwards and responding to movements in a body's position.
Certain age and weight restrictions apply and reservations are recommended. For more information, please visit http://segwaygibbon.com or call, in Chang Mai, 053 010 660-3.
###