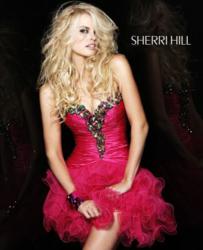 Lilburn, Georgia (PRWEB) November 30, 2011
The 2012 Cinderella's Closet prom season is shaping up to be the most exciting yet. Thousands of dresses have been ordered and new products are arriving daily. This is the largest renovation in the store's history! The current buzz in the prom and pageant world is what will be unveiled at the Grand Re-Opening in January 2012. Cinderella's will carry all of the top designers as usual including but not limited to: Sherri Hill, Jovani, Tony Bowls, La Femme, Party Time, Mac Duggal (Cassandra Stone), House of Wu (Tiffany), Alyce Designs, Precious Formals, Terani, Night Moves, and Mori Lee; however, the store has added a new division to their illustrious roster- Cupcake Pageant dresses! The cupcake dresses now available are from Party Time, Tiffany, and Unique Fashions. Expanding their little girl pageant dress division is the addition of Sherri Hill and Unique Fashions. Perfect pampering items for little girls are now available such as little girl nail polish, lip gloss, manicure/ pedicure kits, robes, and slippers all by Molly and Me, as well as little plush purses paired with stuffed animals furnished by Douglas.
For the upcoming Spring 2012 prom season a host of new and exciting products have been added in store. Cinderella's Closet is now a proud retailer of Caren Original body products which includes lotions, soaps, hand sanitizer, foot crème, hand crème, chap-sticks, and lip glosses. The Julie France body shapers are now available which include their panty shaper, tank top shaper, tummy shaper, support bra, and legging shaper. Furthermore increasing their under-the-dress products, Cinderella's has also increased their Spanx inventory and added long line bras and corsets by Carnival Bras. The new Hanky Panky line of underwear as well as skinny clear invisibelts, briefs, and thongs, bralettes, silk robes, and pajama boxer sets round off the thoroughly expanded undergarment department.
The store is also excited about the new variety of accessories and gift options that will be on sale for the new Prom 2012 season. Hollywood Fashion Tape has always been available at Cinderella's Closet, but never such a variety of items! Now the entire Hollywood Fashion Secrets line is available at Cinderella's Closet including their handy compact mirror, oil-blotting tissues, clear bra straps, hem tape, and silicone breast enhancers. Helen's Hearts shoes have also always been available at Cinderella's Closet, now you can find Helen's Hearts cowboy boots and rhinestone encrusted heels too. More specialty and gifting options available at Cinderella's Closet are Piggy Pillows foot inserts, Scandalous memory foam slippers and flip flops with Swarovski crystals, and Red Foot's foldable flats for quick on the go fashion.
Located in the bustling Atlanta metro area, Cinderella's Closet is a hot prom and pageant dress store now carrying over 5000 gorgeous dresses for your occasion. Cinderella's also offer plus size dresses, competition pageant swim wear, special occasion shoes, silicone bra accessories, jewelry, and much, much more! The friendly and trained staff will gladly assist you in selecting your entire ensemble from top to bottom. A veteran in the pageantry business since 1994, Cinderella's Closet has been a leader in the industry. Many customers have continued to find outstanding success in competitions ranging from local to national levels.
Located at 700 Beaver Ruin Road, Lilburn, GA, about a mile west of Lawrenceville Highway, Cinderella's Closet is open extended hours for the Prom Season: Monday- Friday Noon to 6 p.m, Saturday 10 a.m. to 6 p.m. Call the store at 770-921-8474 or visit http://www.cinderellasgowns.com for more information on the events and gowns for pageants, proms and special events.
###