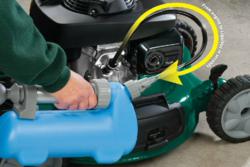 Portage, MI (PRWEB) November 29, 2011
The LiquiVac™ Oil Change System http://www.liquivac.com/ joined the STA-BIL® Lawn and Garden Mower Racing Series, http://www.letsmow.com as an Official Partner at the 5th annual Sam Rogers U.S. All American Open Nov 4-6, 2011, in Stevenson, Alabama, one of America's premier lawn mower racing events. More than 100 lawn mower racers from across the country received a LiquiVac™ Oil Change System as they competed on racing lawn mowers at speeds approaching 60 mph.
The LiquiVac™ Oil Change System looks like a little blue Dachshund, but it takes a big bite out of a homeowner's fall lawn mower maintenance with a process that only takes seconds to suck oil out of lawn mowers for a quick, clean and eco-friendly oil change.
Most lawn mower manufacturers recommend an oil change every 25-50 hours for peak performance and to reduce engine wear, so LiquiVac™ can help extend engine life, and used along with STA-BIL Fuel Stabilizer in the fall, prepares outdoor power equipment for proper storage between seasons.
"I am impressed by these lawn mower racers with their mechanical ingenuity, competitiveness and speed, "said Barry Kearns, president of Air Power America, maker of LiquiVac™. "I also admire their sense of fair play, willingness to help their fellow racers and the fun they have. LiquiVac™ was well-received at the Sam Rogers U.S. All American Open, and I'm glad we're able to help out racers as they enjoy their sport."
LiquiVac™ creates a vacuum that cleanly pumps engine oil into a durable holding tank through a hose inserted in the engine's dipstick tube in only a few seconds. It works on any push mower or riding mower including Briggs & Stratton, Toro, Snapper, Snapper, Troy-Bilt, Husqvarna, Cub Cadet, Bolens, Honda, Kubota, Ariens, Tecumseh and Craftsman, as well as for garden tractors, tillers, generators, snow throwers, ATVs and outboard motors. There are two LiquiVac™ Oil Change System models: a small model (3 quarts capacity) and large model (8 quarts). It's sold at Home Depot, Lowes, Tractor Supply, Do-It-Best, Northern Tool and Grainger stores.
The STA-BIL Lawn and Garden Mower Racing Series is sanctioned by the U.S. Lawn Mower Racing Association, the nation's oldest and largest lawn mower racing sanctioning body. Founded on April 1, 1992 and celebrating its 20th Anniversary in 2012, the USLMRA sanctions and presents organized lawn mower racing across America including the 20-race STA-BIL Lawn and Garden Mower Racing Series and a network of 50 Local Chapters and Affiliated Clubs hosting more than 140 sanctioned races nationwide. Title sponsor STA-BIL is the #1 selling fuel stabilizer that keeps gas fresh in stored power equipment. STA-BIL lawn mower racers compete in seven classes at speeds up to 60 mph with all cutting blades removed.
USLMRA Title Sponsor is STA-BIL, http://www.goldeagle.com/brands/stabil/default.aspx, America's top selling fuel stabilizer that keeps fuel fresh for quick, easy starts after storage along with support from HEET Gasline Antifreeze, Start Your Engines! 104+ Octane Boost, No Leak, Alumaseal, RhinoRamps and GnomeFrenzy.
###